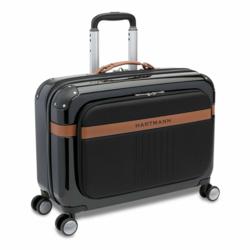 Atlanta, GA (PRWEB) May 09, 2012
You've seen them at the airport…travelers briskly walking with their suitcase easily rolling by their side. Four-wheel "spinner" luggage has become increasingly popular over the past few years because they provide more mobility and versatility while putting less stress on your arms and shoulders. Nearly every major luggage manufacturer now offers a spinner collection, but the buyers at Mori Luggage & Gifts are particularly excited about these five new introductions in 2012.
Victorinox Werks Traveler 4.0 Dual-Casters
What's better than four wheels? How about eight? The new Victorinox Werks Traveler dual-caster collection features eight wheels for added stability, a removable garment suiter (except 20" bag), and expands an extra 2". The 22" carryon weighs just 7.3 lbs. $349.99
Rimowa NEW Salsa Deluxe Collection
Rimowa, the leading brand of 100% virgin polycarbonate luggage, has just launched a new version of the popular Salsa Deluxe collection. Improvements include a quieter Multiwheel® system, a built-in TSA-approved lock that is flush with the bag, and a telescopic handle that stops at any height for more comfortable travel. The domestic IATA carry-on weighs only 7.7 lbs. $595.00
Samsonite MVS 19" Spinner Backpack
This wheeled bag combines the grab-and-go functionality of a backpack with the maneuverability of a spinner. Quick-change back panel technology allows easy access to padded backpack straps. The laptop compartment holds up to a 17" screen and felt-lined hidden pockets protect valuables. $129.99
Coming Soon...
Hartmann PC4 Carry-on Spinner Garment Bag
This is the first polycarbonate spinner garment bag that we've seen on the market and it's a beauty.
It features a removable garment sleeve with anti-wrinkle padding, a collapsible universal hanger trolley with secure clamp and detachable over-the-door hook for hanging. The front section includes a padded pocket for a tablet/iPad, and more organizational pockets. Available in July 2012. $379.99
Biaggi Volo Collection
Biaggi – a new folding luggage collection will hit stores in August 2012. Biaggi bags feature 4-wheel spinner technology for 360-degree movement, interior and exterior pockets for organization, a telescoping, fully adjustable aircraft-grade aluminum handle system that accommodates users of all heights and a signature storage bag to keep your Biaggi luggage clean and protected. Biaggi's hinge lock technology is ideal for people who do not have much storage space at home and for those travelers staying in small quarters on cruise ships or boutique hotels. 22" Volo Carryon $239.00
About Mori Luggage & Gifts
Based in Atlanta, Mori Luggage & Gifts is a family-owned luggage and gifts specialty retailer. Betty and Jean Mori founded the company in 1971 and serve as vice president and CEO respectively. Their son, John Mori, serves as president. Mori currently operates 28 stores throughout Georgia, Alabama, Tennessee, South Carolina, North Carolina and Florida. For information about Mori Luggage & Gifts, visit http://www.moriluggage.com or call (800) 678-MORI.
# # #
High-resolution images available upon request.