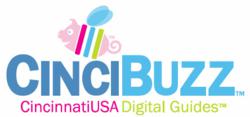 CinciBuzz is our first venture into social media. By being digital, creative and fun, it points to the future.

-- Dan Hurley
Cincinnati, OH (PRWEB) May 04, 2012
Members of Leadership Cincinnati's Class 35 today announced the creation of CinciBuzz (@cincibuzz), the nation's first dedicated, grassroots network of advocates using social media as the digital glue to help make Greater Cincinnati USA a more connected, navigable and helpful place with real conversations in real time.
A team of informed CinciBuzz social advocates will act as digital guides, monitoring key search words on Twitter. This civic model is based on consistent conversations taking place on Twitter via search terms and hash tags such as "Cincinnati," "Cincy," "The Nati," "Northern Kentucky," "Southwest Indiana" and "CVG." CinciBuzz social advocates will monitor tweets about Cincinnati USA and respond to posts with customer-friendly information about the region and its assets, from music to arts to food to health care.
The concept was one of several class projects submitted by Leadership Cincinnati, the competitive, annual nine-month program sponsored by the Cincinnati USA Regional Chamber that helps participants gain insight about the region's most pressing issues and encourages them to find solutions.
"This is another great Leadership Cincinnati class project. Some, like Crayons to Computers and the Charitable Pharmacy at St. Vincent de Paul, are high profile," said Dan Hurley, director of Leadership Cincinnati. "Others like Bridging the Gap are not so splashy, but are helping people move into meaningful work. CinciBuzz is our first venture into social media. By being digital, creative and fun, it points to the future."
CinciBuzz offers synergy with Cincinnati tourism activities and will add substance and meaning to Cincinnati's designation as Mashable's Most Social City.
The launch of CinciBuzz coincides with Flying Pig Marathon weekend, where more than 30,000 visitors are expected to be in Greater Cincinnati. CinciBuzz will have a presence at the Flying Pig Expo, where patrons are expected to be issued free magnets featuring the logo and mascot, "Buz iPig," or BIP.
"We see CinciBuzz as another way to connect with people who are interested in Cincinnati USA and to ensure that the experiences of visitors and natives alike are positive," said Iris Simpson Bush, executive director of the Flying Pig Marathon. "CinciBuzz will play a critical role in helping convey information as we welcome visitors to Cincinnati for the Flying Pig Marathon, the World Choir Games, Taste of Cincinnati, and a myriad of other activities throughout the year."
"Cincinnati USA has long been celebrated for its commitment to innovation, from the legacy of inventor Powel Crosley Jr., to the current breakthroughs taking place in medicine, advanced manufacturing, aviation and knowledge-based industries across the region," said Byron McCauley, director of public relations at KnowledgeWorks and a member of the team that submitted the CinciBuzz project. "CinciBuzz can continue our legacy of innovation in the digital space."
McCauley said the project was inspired by his friend, longtime Cincinnati PR executive Raymond "Buz" Buse, who died suddenly in March. "I regret Buz did not have an opportunity to see this project take root, but we believe he would be proud of CinciBuzz."
Information Technology Entrepreneur Dave Hatter, also a member the Leadership Cincinnati team, said CinciBuzz will inspire thousands of people to interact around common interests.
"At the end of the day, we enlivening a space for people to connect with one another and hopefully improve our quality of life," Hatter said. "Natives may connect with newcomers because both were looking for a good foodie spot or information on CinciBuzz helped someone avoid getting stuck in traffic. That adds value to our community."
On Twitter, @CinciBuzz
Like CinciBuzz on Facebook
Join CinciBuzz on LinkedIn
To see news coverage of the CinciBuzz launch, click here.