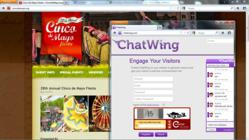 Cambridge, MA (PRWEB) May 05, 2012
Cinco de Mayo is finally here, along with different party ideas to relive the benevolent Mexican victory. Now, people are now talking about this event in a prominent chat box known as Chatwing. This application provides efficient communication for everyone in many parts of the world. Basically, people have lots of topics to talk about in Chatwing.
Chatwing operates on a simple platform that can be understood by most people. This chat box specializes in global connection, spanning different places simultaneously. Adding to that, Chatwing can also be installed to blogs and websites that accept HTML coding. This level of simplicity is buffed up by Chatwing's high rate of global connection. Chatwing's developers have worked round the clock to ensure that Chatwing can deliver a renewed chatting experience for everyone.
Since Chatwing is a simple widget, installing it doesn't take much time. To install Chatwing, the user must first register his blog's domain name. After that, he will be prompted to modify the appearance of the shout box. He has the option to change the height, width, color, and title of the widget. This high level of customization has also appealed to many bloggers, especially those ones who want to write about Cinco de Mayo party ideas.
Bloggers who used the latest shout box of Chatwing have also seen high improvements when it comes to the online presence of their blogs. In a way, Chatwing turned their blogs into online lounges where people can gather and share opinions and ideas on a regular basis. Days before Cindo de Mayo, Chatwing's developers have observed discussions about the upcoming event. These discussions range from parties, food ideas, and activities that people can do to commemorate the bravery of the Mexicans who died in Puebla.
Users who want to check out the Chatwing shout box can now visit its website and try chatting right away. Chatwing's Facebook page is also updated with fresh and useful content.
About Chatwing.com
Chatwing.com has developed live chat software for websites and blogs. It caters to different online communities due to its high rate of connectivity. Everyone can create a customizable live chat box feature in 1 minute or less. Users have the ability to customize the size, color, and fonts of the chat product. The ability to chat via social media accounts such as Facebook and Twitter enable Chatwing to offer a personal and unique real-time experience to all sites. Chatwing is 100% free and very easy to use.