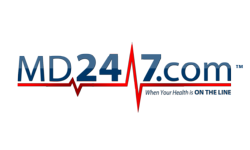 Visit http://www.md247.com.
Tampa Florida (PRWEB) May 04, 2012
Telemedicine provider MD247 indtrouced rural Florida residents to the inexpensive and expedient nature of telemedicine May 4th, May 5th and May 6th during the Florida Blueberry Festival. Those attending the event in Brooksville Florida had the chance to speak with the MD247 team about the benefits of telemedicine, as well as the opportunity to become a telemedicine program member at a steep discount.
The Blueberry Festival brings together all the goodness of nature's Florida Blueberry harvest for a three day event in Brooksville Florida - May 4, 5 & 6, 2012. The 3 day Festival Venue will be held under the shade of the iconic twisted oak trees gracing the lawn of the Courthouse on Brooksville's square. Festival attendees can stroll at their leisure indulging in festival fare, gourmet delights and fresh Florida blueberries; they can refresh themselves with a variety of assorted beverages and partake of the unique offering in the Blueberry Wine and Cheese booth.
MD247 (MD 247; MD247.COM; MD/247; M.D. 247) is a twenty-four hour a day affordable concierge telemedicine company based out of Seminole Florida. All members have unlimited twenty-four hour telephone access to a nationwide medical support team with just a phone call. MD247.com has a virtual platoon of Registered Nurses and board certified physicians in each and every state available to members for ALL non-emergency situations. Additional information about MD247.COM can be found online at http://www.md247.com, on Facebook at http://www.facebook.com/md247dotcom or parties interested in the telemedicine program can call 866-232-1343.