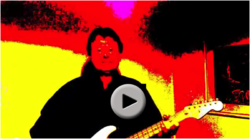 The late Bert Weedon, the guy whose original tuition book 'Play in a Day' helped Eric Clapton, Brian May and Paul McCartney to get started, will be rockin' at Heavens door when he hears this tremendous news
London, UK (PRWEB UK) 6 May 2012
Neil Griffin recently announced the launch of the Riffin Griff online guitar tuition system, teaching budding rock stars how to play guitar. This innovative system is designed for new and existing guitar players anywhere in the world, enabling them to learn at a time and place to suit them, using advanced learning techniques to create hugely accelerated progress.
The best of new technology and the skill of the old blues rocker makes the dream of playing like the stars reality, learning how to play guitar on computer, ipad or tablet.
Neil Griffin, announcing the launch of Riffin Griff, commented "The late Bert Weedon, the guy whose original tuition book 'Play in a Day' helped Eric Clapton, Brian May and Paul McCartney to get started, will be rockin' at Heavens door when he hears this tremendous news".
What would have taken 10 years of "Traditional Training" can now be achieved in six months. Here's how:

The Riffin Griff approach is a fusion of one man's passion to learn how to make the guitar sing, and a lifetime learning and implementing accelerated learning techniques.
The system skilfully teaches players all they need, simply and effectively and with a smile on their faces. It saves students from the ocean of pointless knowledge that takes the joy out of the fantastic experience they can have learning how to play guitar.
Working one to one with an experienced player in the virtual studio, the motivation that comes from working with a good mentor/coach just cannot be underestimated.
This is a highly-focused learning approach, using only material that is directly relevant to the student's needs, resulting in vastly accelerated learning.
With Riffin Griff guitar tuition, Neil Griffin has taken the very best of online technologies, combining them in a hybrid approach to learning, using all the advantages of one to one tuition.
Having been immersed in advanced learning and development approaches for many years in his day job as a behavioural development professional, Neil has combined the best of these with his 46 years of knowledge of what really works, creating a vastly accelerated approach to learning.
Neil commented "Above all, learning how to play guitar has to be fun and motivational; the motivation comes when a player really sees themselves making progress. On our one-to-one video calls we can generally have a bit of a laugh and a joke, which helps keep the players buoyed up. Also, I get them to record all their progress online, which has the effect of turning them into instant performers!"
The Riffin Griff guitar tuition system takes the very best of guitar instruction material, combining it with a novel fusion of leading-edge web-based technology, one to one tuition and accelerated learning methods. This winning formula enables the student to achieve in months what would previously have taken years.