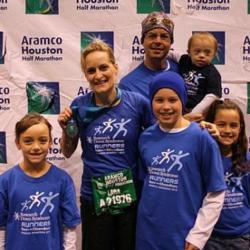 I love being an RDS Runner and I was overwhelmed by the support I received running for Down syndrome research.
Chicago, IL (PRWEB) May 05, 2012
The Research Down Syndrome Foundation's RDS Runners program shares its upcoming events schedule with racers interested in having their miles support Down syndrome research.
The program has participated this year in multiple races across the country, from half marathons in New York City, Washington, DC and Houston to shorter races in the Midwest. The RDS Runners team was a top fundraiser in the NYC Half Marathon on March 18.
RDS Runners is the national program directed specifically to raising funds for research targeted towards understanding the cognitive difficulties associated with Down syndrome and the development of drug therapies that will increase life opportunities for persons with Down syndrome.
The program has been accepted as a charity partner in events across the country, and has energized the Down syndrome community and runners nationwide through its potential to make significant increases in research funding. The program's two professional trainers assist individuals with their training needs.
For more information on the events below, or if you are interested in organizing a local running, biking or triathlon event, contact: rdsrunners(at)researchds.org. You can find the latest updates on the RDS Runners program on the RDS Runners blog.
Upcoming Events:
NDSC Fun Run - July 20
The Wipro San Francisco Marathon - July 29
Chicago Half Marathon - September 9
US Air Force Marathon Weekend - September 15
Bank of America Chicago Marathon - October 7
Medtronic Twin Cities Marathon Weekend - October 7
ING New York City Marathon - November 4
Philadelphia Race Weekend - November 18
About Research Down Syndrome
Research Down Syndrome (RDS) is among the leading sources of private funding for Down syndrome related cognitive research. RDS supports and funds Down syndrome cognitive research conducted at leading research institutions that are studying the basis of the intellectual impairments associated with Down syndrome - including Johns Hopkins University; Stanford University; University of Arizona; University of California, San Diego; University of Texas, Austin; and VA Palo Alto Health Care System. Research Down Syndrome is a legal corporate entity, and is a 501(c) (3) nonprofit organization designated by the Internal Revenue Code. For more information, go to http://www.researchds.org, or contact RDS: info(at)researchds(dot)org or 877.863.2121.