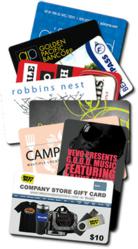 (PRWEB) May 07, 2012
For a limited time, CardPrinting.US is taking an innovative and direct approach to ordering plastic card printing. From May 7th until 12 noon on May 16th, CardPrinting.US is offering the single price of $349 for 1000 custom printed PVC plastic cards. This pricing waives most of the upcharges associated with plastic cards, which are typically used for custom gift cards. It does not matter if the card has additional features, such as magnetic stripe, or bar code, or full color printing on both sides of the card – or all of these features. It is the simple and straightforward price of $349.
There are minimal restrictions on this offer. The prepaid orders must be for PVC white stock and placed before 12 noon eastern on May 16, 2012, when the sale ends. Customers may place a single order only with this special pricing, and the discount code 1000cards349 must be used when ordering.
Take advantage of this incredible savings with one click, by going to http://www.cardprinting.us/1000cards/1000cards.html.
Card-Printing.US is a part of the Tele-Pak Inc family of web sites for plastic printing needs. Tele-Pak Inc. is located in Monsey, NY has been a worldwide leader in the plastic printing industry since 1996, producing all kinds of plastic cards: gift cards, plastic key tags, scratch cards, phone cards, fundraising cards, membership cards and point of sale activation (POSA) cards. Corporate information can be found at http://www.tele-pak.com.