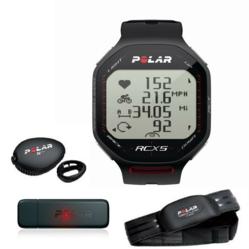 This list is the cream of the crop for running watches
Bozeman, MT (PRWEB) May 04, 2012
The Heart Rate Watch Company has named its top 5 running watches for 2012 after significant testing of all models.
"This list is the cream of the crop for running watches and is a composition of some of the best GPS and foot pod driven units available on the market today," says Rusty Squire, President of the Heart Rate Watch Company. He adds, "One of our runners ran up a 4,000 vertical foot dirt trail to the summit of 9,000 foot Mount Baldy with a watch this week and the distance and altitude were dead on and the key is using one second recording intervals."
Number 1 - Polar RCX5 Run with the S3-plus foot pod is our number one pick. The pace, distance and cadence accuracy with this watch is unsurpassed. It is the only non-GPS watch in our top 5 but for marathons, trail running and training this watch just can't be beat. It has a nice large display screen and is super light at 1.75 ounces, plus it fits women and they like it too.
Number 2 - Garmin 610 is a touch screen GPS watch that provides runners with speed, distance, elevation and even cadence with an optional foot pod. The navigation is super intuitive and the map quality at Garmin is second to none. It does lack a barometric altimeter but this can be corrected in the Garmin Connect software. It's the smallest GPS watch and even fits women but the battery life between charges is only about 7 hours.
Number 3 - Timex Run Trainer has proven to be Timex's most successful GPS watch release ever. It's a tad over-sized for women but fits guys just fine. It gets accurate speed, distance, pace and even maps but if you use a foot pod for cadence it overrides the GPS for both pace and distance. For the money it is a heck of a value and has loads of timing features.
Number 4 - Garmin Forerunner 210 is a proven winner among running watches. This is the same watch Ryan Hall used when recording his mile times as laps and uploading it when he ran a 2:04 in Boston in 2011. It is easy to use, very moderate in size and even comes in a women's version.
Number 5 - the Suunto Ambit may be one of the best trail running watches ever. While it still doesn't have the ability to do cadence with Suunto's foot pod it is likely a firmware update will address this. In the meantime it gets accurate altitude thanks to a barometric altimeter and has a large display that is easy to read. The construction is stellar and for trail runners or mountaineering types it is a fantastic choice.
"These running watches have been getting tested by our tester John Yarrington who is training for a 50k off-road," says Squire. He adds, "John is the ideal tester because he runs, is a tremendous cyclist, back country skis and just does it all, plus he's a legend here in Bozeman."