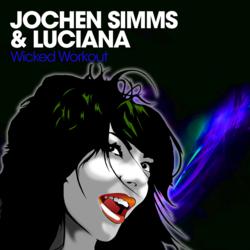 Teaneck, NJ (PRWEB) May 07, 2012
Today, international dance label Radikal Records announces the release of the new electro house single from Jochen Simms and Luciana entitled "Wicked Workout." The single will be released in digital download format on Beatport and the Radikal Records website (http://www.radikal.com) on Monday, May 7th and on iTunes and additional streaming services Monday, May 14th. The single package will include 3 tracks in total: the original mix of "Wicked Workout" plus the radio edit and instrumental dub mix versions.
UK based Jochen Simms is fast becoming one of the most talked about, up-and-coming DJ/Producers. His unique productions are a soulful combination of progressive sounds and unforgettable rhythms. His impressive body of previous work includes remixes for Basement Jaxx, Robbie Williams, MYNC, Orbital, The Ting Tings, Soulja Boy and Moloko.
Now, Simms teams up with vocal powerhouse Luciana on the new electro-infused single, "Wicked Workout." Luciana, an Ivor Novello Award Nominee, is best known for her single "I'm Still Hot," which features Hollywood legend Betty White and has gotten well over 1 million video views on YouTube in the past six months. Her undeniable talent has captivated the global dance community, leading to collaborations with some of the biggest producers in the industry (Fedde Le Grand, Bodyrox, Mark Knight, and Deadmau5). On "Wicked Workout" her tongue-in-cheek vocals combine with Simms' upbeat instrumental "Sonic Wave," resulting in a monstrous record that will crowd any dance floor.
Radikal Records offers artists national distribution through SONY/Red Distribution, electronic distribution through iTunes, eMusic, Amazon and all major downloading services, and other resources including production, artist development, product marketing and licensing opportunities. In recent years, Radikal has worked with many artists including: 2 Unlimited, N-Trance, Zombie Nation, ATB, Yello, Scooter, Schiller, Blank & Jones, Cosmic Gate, Sinead O'Connor, Voodoo & Serano, and others.