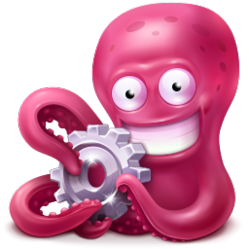 Waste less time… get more work done!
Novosibirsk, Russia (PRWEB) May 15, 2012
Alice Dev Team is pleased to announce the launch of their new utility MenuMate v.1.0. This program, released for Mac OS, is designed to help users get access of an app's menu bar item whenever it is necessary. MenuMate provides a simple solution for users who tired of straining their wrist from mousing back to the menu bar all the time, especially if a user has a big screen, twin screens or a tablet+screen combo.
"All you need to do is assign a hotkey or mouse button (other than left or right) to it. If you have a Magic Mouse or Magic Trackpad, you can use Magic Prefs (free) to create a virtual centre button for them. To access MenuMate's preferences, just click on the octopus icon in the menu bar," says Stanislav Kuptsov, CEO of Alice Dev Team. "Waste less time… get more work done!"
Anyone who switches from other systems to the Mac has a problem: the menu for the applications is not longer located where it was, but rather all the way at the top of the desktop. This means that the mouse has to travel a long way, since the important commands are not always immediately accessible. Understandably many people that switched are irritated by that.
The app MenuMate will remedy the problem. It will ensure, that the menu of active apps opens exactly where the cursor is located. Something that's easy to get used to, especially since the tool shows its advantage instantly: all important software functions are immediately available without having to memorize hotkeys or do extensive navigating with the mouse.
MenuMate hooks itself right into the Mac's menu bar. The icon has to be accessed only once, in order to configure the app. The right and left mouse button may not be assigned to the tool. This, naturally, leaves only the other mouse button – the middle one. Once the tool has been assigned, "MenuMate" may be used immediately.
MenuMate is available for purchase from the Mac App Store at http://itunes.apple.com/app/id518594271 or from Alice Dev Team's website at http://alicedev.com/menumate
About Alice Dev Team
Headquartered in the Russia's beautiful city of Novosibirsk, the heart of snow-covered Siberia, Alice Dev Team is a premier Mac development company. They design and develop utilities, useful tools, entertainment, and social apps for Mac, iPhone and iPad. Alice Dev Team's goal is to create apps that bring you joy, put a smile on your face and perk up your mood!
For more information, please visit http://alicedev.com