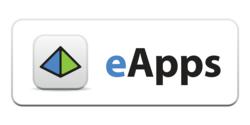 Since 2005, QTS has provided the highest level of data center services. We truly view them as a partner, not a vendor. The performance of their data center combined with technical expertise and personal attention are critical to our success.
Norcross, GA (PRWEB) May 09, 2012
eApps Hosting announced the availability of the company's Virtual Machine in the Cloud hosting service in a new data center in Richmond, Virginia, USA. Customers can now deploy their Virtual Machines in both the Atlanta, Georgia and the Richmond, Virginia data centers. Both world class data centers are owned and operated by Quality Technology Services, Inc. (QTS), the third largest data center operator in the United States. The Richmond facility occupies 1.3 million square feet of space in four distinct data center buildings. Currently 183,000 square feet of raised floor is operational, with 500,000 additional square feet of expansion planned.
eApps selected the QTS Richmond data center as a location for its Cloud services due to the successful, long standing relationship with QTS, the synergies offered by remaining in the QTS data center network, and ample room for expansion in the facility. The key benefits of offering Cloud hosting services in the Richmond data center are:
> High Availability Services - eApps Hosting offers economical High Availability (HA) hosting services now across physical Cloud Zones and is working on offering HA hosting services that span geographical data center locations for maximum up-time
> Disaster Recovery - eApps Hosting can now offer disaster recovery services for customers with mission critical sites, by storing synchronized replicas of Cloud based Virtual Machines in the second data center
> Proximity to Washington, DC - the Washington Metropolitan Area is home to the entire Federal district of the USA and comprises over 5.5 million residents. It is the seventh largest metropolitan area in the country and is growing rapidly.
The eApps Virtual Machine in the Cloud service runs on a fault tolerant Cloud platform, powered by the OnApp Cloud management system. Customers can quickly deploy and provision a 32 or 64 bit Xen based Virtual Machine server running Linux or the Windows 2008 Enterprise Edition operating system. Customers have full access rights and the ability to immediately adjust computing resources to meet changes in demand. For applications requiring High Availability, a load balanced configuration can easily be implemented. Advanced services for backup management and secure access via an IPsec compatible VPN are also available.
To create a Virtual Machine in the Cloud, customers use the eApps Create-a-Cloud® tool to select RAM, CPU, Disk and other computing resources. The Virtual Machine is provisioned in minutes. The Cloud hosting service is backed by a responsive in-house 24/7 technical support team available by phone, Skype, chat, and email. To take advantage of a 75% discount on the first month of a monthly subscription, go to http://create-a-cloud.com and use promotion code SAVE75OFFHOST.
For additional information contact eApps Hosting at +1-770-448-2100 USA or +44 (0)20 8133 6940 UK, Skype: eappshosting, or visit http://eApps.com for on-line chat assistance. The Create-A-Cloud® tool can be accessed at http://Create-a-Cloud.com/.
eApps Hosting is a value-added provider of cloud hosting services for businesses and organizations, serving more than 5000 customers, hosting over 15,000 domains in more than 150 countries. eApps Hosting offers a "true cloud" service for 32 and 64 bit Xen Virtual Machines running Linux or Windows for commercial-grade web sites, web applications and email services with highly personalized, responsive service.