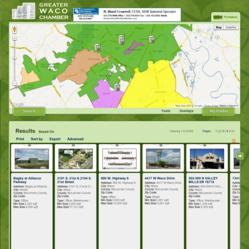 WacoProspector.com has been an incredibly valuable recruitment and expansion tool for us, and we expect it will continue to drive businesses and jobs to our community," said Jim Vaughan, CEO, Greater Waco Chamber
Waco, Texas (PRWEB) May 07, 2012
Businesses considering a Greater Waco location now have a Web 2.0 tool enabling them to access important site selection information faster than ever before. The Greater Waco Chamber announced today that its WacoProspector.com tool, created by GIS Planning, has been transformed using new Software as a Service technology.
Waco's Geographic Information System (GIS)-powered website offers state-of-the-art site selection analysis and mapping capabilities using ZoomProspector and Google Maps technology. This one-stop system provides website users with free and instant commercial real estate data, demographic breakdowns, community details, lists of buildings available for sale or lease, and information on the local workforce, including education and skills.
"As the web continues to evolve, we are continuing to provide business executives and site selectors with the most up-to-date resource for making business expansion decisions here in Waco," said Jim Vaughan, CEO of the Greater Waco Chamber. "WacoProspector.com has been an incredibly valuable recruitment and expansion tool for us, and we expect it will continue to drive businesses and jobs to our community."
Specifically, the enhanced WacoProspector.com website allows visitors to:

Search for available buildings and sites using very specific criteria, and display properties on an interactive map that can also show specific points of interest, demographic information and more.
Explore existing businesses in Waco by general and specific industry classifications, and by size and performance.
Find locations in Waco that match specific demographic, labor force, transportation and geographic profiles.
Easily save property, demographic, community and business reports.
Use smart phones to connect from printed flyers to WacoProspector.com using Quick Response codes.
WacoProspector.com is integrated with GIS Planning's national site selection search engine, http://www.ZoomProspector.com, which allows visitors to conduct national searches of cities and commercial properties that match their unique criteria.
About the Greater Waco Chamber
The Greater Waco Chamber has a history of successfully supporting projects, from the earliest stages of site selection through incentive negotiations, to project announcement. Once located here, Greater Waco and McLennan County have demonstrated a commitment to provide ongoing, aggressive support for the expansion of existing businesses. In fact, since 2006, the Greater Waco Chamber team is proud to announce that having supported more than 20 new attraction projects and 40 expansion projects, creating more than 5,300 jobs and $740 million in capital investment in the Greater Waco community. WacoProspector.com is sponsored by American Guaranty Title, Walker Partners, Community Bank & Trust and Coldwell Banker Jim Stewart Realtors.
About GIS Planning, Inc.
GIS Planning (http://www.gisplanning.com) is the world leader in online economic development solutions. More than 13,000 U.S. cities in 42 states are served by GIS Planning's Geographic Information System (GIS) Software, which provides real estate, demographic and industry data to help site selection professionals. GIS Planning invented ZoomProspector.com, a free website that enables companies identify the best locations to start-up, expand or relocate.