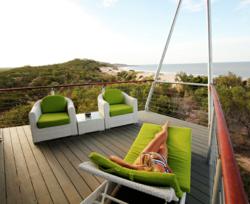 We've had some real trials and tribulations building this property in such a remote location and on a sand dune. But luckily we've had very level headed project manager in charge and we've been able to achieve a really excellent result
Miami, FL (PRWEB) May 07, 2012
Berkeley River resort is one of the newest resort destinations that Western Australia has to offer. Taking 5 star luxury and isolation to the next level, the Berkeley Resort provides guests with sense of isolation from the rest of the world along with the rests and relaxation and becoming one with nature.
One of the Kimberley Region's newest and most remote coastal resorts, the Berkeley River resort is only accessible through boat or a one hour plane ride from Kununurra and is positioned between Broome and Darwin in a pristine area of the outback.
"Millionaires are flocking to this new destination not only because of the beauty of the outback but also 5 star comfort and service that guarantees a little piece of heaven with every minute spent in the exotic destination. Fresh air, being one with nature are just some of the reasons why the Berkeley Resort is taking luxury in the Kimberley coast to a whole new level."
A representative of BillionairesBunker.com states that guests will have a view from the top of the world perched atop coastal dunes. Each of the 20 air-conditioned chalets has a private balcony overlooking the Timor Sea or the mouth of the Berkeley River, with its gorgelike ravines and 300-foot-tall precipitous cliffs the beauty is second to none.
The Berkeley River Resort is an all inclusive resort that starts out at $3,000 per person per day and includes luxury tours, guided bush and beach walks, fishing, and river cruises alongside waterfalls and secluded water holes, or guests can lounge in the library or at the outdoor lap pool.
With all of the 5 start luxury, comfort and service, it is the true reason why the wealthiest of travelers are heading to Australia's most secluded travel destination.
Learn more about Berkley River Resort.