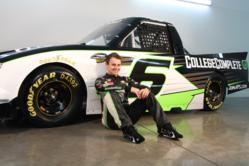 "We are so proud of the support that we have received from the NASCAR community." said Dan Haim, CEO of CollegeComplete.com. "It is their support that keeps us going and allows us to provide Free Education Advice to all who request it."
Deerfield Beach, FL (PRWEB) May 04, 2012
Today, executives from CollegeComplete.com announced the opening of their $1,000 contest website, CollegeComplete.com/Contest where based on the results of the North Carolina Education Lottery 200 NASCAR truck race one registered fan may win $1,000.
After receiving huge support from the public over the year and a half since CollegeComplete.com opened its doors and watching that support surge in 2012 with their sponsorship of Justin Lofton, executives from College Complete were looking to give back.
Aside from their Free Education Advice service, where Education Advocates are available to assist the public in finding educational programs that fit their needs, College Complete will now give away $1,000 if Justin Lofton places in the top 3 at the North Carolina Education Lottery 200.
"We are so proud of the support that we have received from the NASCAR community." said Dan Haim, CEO of CollegeComplete.com. "It is their support that keeps us going and allows us to provide Free Education Advice to all who request it."
People can contact a personal Education Advocate by filling out an information request form on CollegeComplete.com or by calling 877-543-2655. They are available Monday through Thursday from 10am through 7pm and Friday 10am through 4:30PM. Their assistance is available at no cost to you and requires no future obligation. Education Advocates are there for the public to provide information and assist potential students in identifying the best schools to achieve their goals.
By going to CollegeComplete.com/Contest fans can register for the contest as well as sign up to follow Justin Lofton and College Complete on Twitter (requirements for entry). Following the race, if Justin Lofton and the Number 6 CollegeComplete.com, Eddie Sharp Racing Chevrolet finish in any one of the top 3 positions, one entrant will be chosen at random and they will receive $1,000. This year Justin has finished in the top 10 in all 4 races and has a top 3 finish at Daytona.
College Complete is actively looking to reach out to the public about their free service through sponsorship of Justin Lofton, driver of the Number 6 Chevrolet Silverado owned by Eddie Sharp Racing, in the NASCAR Camping World Truck Series. They will also be sponsoring Justin Lofton this weekend in the Canidae Tap It Silver State "300" Best In The Desert, off-road race near Las Vegas.
About College Complete
Partnered with hundreds of educational institutions and across all types of education goals, including traditional college degrees, trade and vocational certifications, and professional licensure, College Complete helps students assess all of the information that exists in the public domain, allowing them to understand and make sense of their educational opportunities. Their services are free and available to anyone. Whether you are interested in Art and Design, Business, Computers and Technology, Criminal Justice, Education, Healthcare and Medical, Science and Engineering, and much, much more; if you're an Electrician, a Nurse, an Automotive Mechanic, a Teacher, a Police Officer, or you're simply interested in learning Computer Programming, Networking, Web Development, or Graphic Design College Complete is available for you at no cost. You can reach them by filling out a form on their site or calling to speak with your personal Education Advocate at 877-543-2655. College Complete has an initiative to assist those in the US Armed Forces and their families and is able to assist in identifying schools that will not only provide the educational requirements of the soldier, veteran or family member but will do so in a cost effective manner.