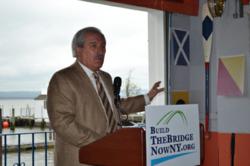 Nyack, NY (PRWEB) May 04, 2012
BuildTheBridgeNowNY.org, a statewide coalition formed to advance the replacement of the Tappan Zee Bridge with new spans to meet the region's mobility needs for the next 100 years, expanded its base of support today at a press conference to now include educators, cyclists and business owners in Rockland County.
"The construction of a new river crossing has already begun and money is already being spent," said Al Samuels, President of the Rockland Business Association and Secretary of BuildTheBridgeNowNY.org. "Our mission is to make sure that it continues. Public safety, interstate commerce and homeland security are the three reasons that will move this bridge forward. Anyone who continues to add cost to this $5.2 billion project either doesn't understand economics or is a pure obstructionist."
Speaking to a group of nearly 40 stakeholders and partners of BuildTheBridgeNowNY.org at The River Club in Nyack, Mr. Samuels added, "We must get the basic crossing built. The Governor has ensured that it will be built with everything needed for a Bus Rapid Transit system and for commuter rail. Unless we have that basic structure, we cannot get the other two. We've got to move forward with that bridge."
Mr. Samuels, who serves as president of the Rockland Business Association, Inc., was joined by: Dr. Cliff Wood, President of Rockland Community College; Jan Degenshein, President of Degenshein Architects and Chair of the Rockland Business Association, Inc.; Peter Kelly, Owner of Xaviars Restaurant Group, Inc.; Steve Brehl, Chair of the Rockland Bicycling Club; and John Wood, President of Operating Engineers L.U. 825.
"If we're going to improve the economic life of all of our citizens here, put everybody back to work at a reasonable job, that will give them a reasonable wage, we have to talk about the economy in this region," said Dr. Wood of Rockland Community College. "One of the things that will improve it, is to be sure people can get back and forth to jobs and to education, and that means building this bridge as quickly as possible."
The governor's proposal for a new bridge is projected to create more than 45,000 jobs and will include a pedestrian plaza with a walkway and bike path. Built to endure well into the next century, the new crossing will provide immediate express bus service, and unlike the current bridge, it will provide a foundation for future mass transit, including Bus Rapid Transit and commuter rail.
"This is our opportunity. A new bridge will allow for a decent public transportation network in Rockland County in the future" said Jan Degenshein of Degenshein Architects and Chair of Rockland Business Association, Inc. "We must respect the multiple issues of environment on both the Rockland and Westchester sides of the bridge that will be evaluated and worked through over time in order to allow for mass transit. As our transportation technology advances, we must prepare now, while we have the funds available to build a new bridge."
Another speaker at the press conference, Peter Kelly, Owner of Xaviars Restaurant Group, Inc., related how the functionally obsolete Tappan Zee Bridge reaches into his pocket every business day in more ways than he cares to count. "The current bridge creates a 'mental block'; people won't travel because of delays," he explained. It is the current reality— people in Westchester, stay in Westchester County and people in Rockland, stay in Rockland County."
Mr. Kelly added, "In 1987 when I opened Xaviars in Piermont, nearly 60 percent of my business came from Westchester. Now only about 18 percent comes from Westchester. We have survived this huge loss in business by marketing to consumers on our side of the bridge, but many other companies have not survived the loss of business. The concern of delays and perceived delays due to congestion, construction, and volume, hurts all businesses in our area."
Steve Brehl, a cycling enthusiast who commutes by bicycle from Rockland County to Westchester County, provided another perspective. "Having a bike and pedestrian lane on the Tappan Zee Bridge is essential. From a transportation viewpoint as well as a recreational viewpoint, replacing the bridge opens up new opportunities for residents of the Hudson Valley," said Steve Brehl Chair of the Rockland Bicycling Club. "A bikeway and pedestrian walkway will allow residents to commute to work by bicycle with the opportunity to enjoy the beautiful views of the Hudson River."
BuildTheBridgeNowNY.org will continue to expand, capturing leaders from local and regional businesses, construction professionals, art and education community members who depend on the Tappan Zee Bridge daily for safe, efficient commuting, freight deliveries, and leisure travel. For more information visit http://buildthebridgenowny.org, or contact George Drapeau at 914-631-6070 or cicwhv(at)aol(dot)com.