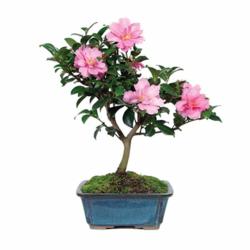 Bonsai trees can be just as easy to order as flowers.
Fitchburg, MA (PRWEB) May 06, 2012
Earn "favorite child status" this Mother's Day by sending Mom a living, flowering bonsai tree, the gift that lasts a lifetime. Leave your siblings in the dust! Let the sibs give her short-lived cut flowers while you shine with a living, growing work of art. Share the love on Mother's Day with a bonsai tree, the unexpected yet perfect gift, plus, receive a free box of imported French Chocolates with any product from our Mother's Day Specials.
Gift-giving is made easy when you order through BonsaiOutlet.com, the recognized source for all things bonsai that has safely shipped more than 50,000+ healthy, nursery-direct trees to satisfied customers during their 11-year history. There's no risk, either, since all products are backed by a 100% satisfaction guarantee.
Despite an unearned reputation of being hard to care for, beginner and flowering bonsai trees just need regular watering and a shady deck or balcony outside, while semi-tropical trees give joy indoors year-round. Or choose an "anti-intimidation" bonsai starter kit complete with everything she needs to raise a happy healthy bonsai tree.
When Mom becomes interested in her first tree, Learning2Bonsai.com online, a division of BonsaiOutlet.com, can answer every question with Q&A, chats and articles.
Bonsai Outlet has a wide variety of beautiful bonsai trees and starter kits to fit every budget. Also available are how-to books organic fertilizers, authentic bonsai shears, decorative pots and more.
Bonsai Outlet is a family-owned, online company located in Fitchburg, Mass. and a renowned importer, distributor and retailer of bonsai trees and gardening products. Our sterling reputation is built on quality products and responsive customer service, twin commitments that set us apart in the industry. For more information on this dynamic company, visit http://www.BonsaiOutlet.com.