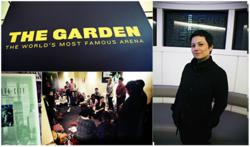 If you are a massage therapist or healthcare provider who is licensed in this area, we encourage you to contact us to learn more about this important work
(PRWEB) May 07, 2012
Tina Allen, an internationally renowned expert in the field of children's and infant massage therapy, recently launched a national initiative to bring pediatric massage to children with life-limiting illnesses through a kickoff speaking engagement and volunteer event at Madison Square Garden in New York.
Allen, who is also the founder of leading children's health and nurturing touch organization the Liddle Kidz Foundation, has become the first massage therapist to ever present at Madison Square Garden. The October 2011 event also marked the beginning of a partnership between the Liddle Kidz Foundation and the Each One Counts Foundation (EOCF), an organization dedicated to easing the physical pain and suffering of chronically and terminally ill children who receive palliative or hospice care.
"I am truly honored to have been able to speak about pediatric hospice massage at this event, and am proud to partner with the EOCF," said Allen. "Together, we hope to raise awareness of the positive power of children's and infant massage. This type of therapy has a wide range of benefits for kids and should be a regular part of healthcare services provided to young people with illnesses."
The two organizations used the event at Madison Square Garden to provide education and support to individuals who undertake volunteer commitments of service to the EOCF. Volunteers provide pediatric massage to children with limited life expectancies in hospice, healthcare, and home settings. In addition, they educate families about massage for children and other valuable services.
"We are excited to have new professional volunteers using massage for children to comfort those in hospice and palliative care," said Allen. "If you are a massage therapist or healthcare provider who is licensed in this area, we encourage you to contact us to learn more about this important work."
About the Liddle Kidz Foundation:
The Liddle Kidz Foundation uses the power of nurturing touch to reach the world's most
vulnerable children. The organization's goal is to empower families and professionals to provide nurturing touch in order to build stronger, more loving bonds with children. LKF provides training, education and support for families and professionals, giving them the tools necessary to ensure the safe, professional practice of nurturing touch and developmental movement with infants and children. To learn more, visit http://www.liddlekidz.com.