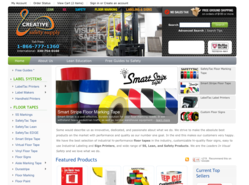 Lake Oswego, OR (PRWEB) May 07, 2012
The internet is ever-changing, and so are the shoppers who use it to find the myriad of products now offered online.
This makes companies that sell goods online that much more competitive at earning customers' business. If a seller is not willing to adapt to provide the best possible shopping experience through superior customer service, a well-organized, fast, and smooth website interface, and excellent product selection, it will not survive.
Industrial product shopping websites are no different, and Creative Safety Supply has evolved as one of the industry's leaders for valuing the shopping experience of its industrial customers in factories, warehouses, manufacturing facilities, and other production companies worldwide.
While they still carry only the highest-grade of floor tapes, label systems, Lean, Six Sigma, Kaizen, 5S, and 6S products (as well as occupational safety products like PPE, Spill kits and arc flash equipment), Creative Safety Supply's new website has improved upon the original by offering an exceptionally-organized browsing experience which intuitively directs visitors to the products they need and even offers a wide range of free informational content and downloadable educational guides.