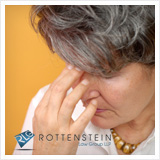 (PRWEB) May 07, 2012
The Rottenstein Law Group, which represents clients with claims stemming from the adverse effects of vaginal mesh, eagerly anticipates the Feb. 15, 2013, start date of the first federal-court trial over injuries allegedly sustained by women as a result of having received vaginal mesh implants manufactured by C.R. Bard (MDL No. 2187).
Chief Judge Joseph Goodwin, who is presiding over the multi-district litigation (MDL) consolidating 600 cases against Bard for vaginal mesh injuries, set the Feb. 15 trial start date last week, according to an article on BloombergBusinessweek.
The MDL centralizes the Bard cases in the U.S. District Court for the Southern District of West Virginia, where Judge Goodwin presides over the pre-trial proceedings for all of them, but the cases will still be tried as separate actions. The cases all involve injuries allegedly sustained as a result of Bard's vaginal mesh products, most of which bear brand names that include "Avaulta" or the prefix "Pevi-."
Cases against three other vaginal mesh manufacturers have been similarly consolidated in the U.S. District Court for the Southern District of West Virginia, where their pre-trial proceedings are also presided over by Judge Goodwin: MDL No. 2325 consolidates cases involving American Medical Systems's vaginal mesh products; MDL No. 2326 consolidates cases involving Boston Scientific Corp.'s vaginal mesh products; and MDL No. 2327 consolidates cases involving Ethicon Inc.'s vaginal mesh products.
As a law firm that is representing many of the claimants in the vaginal mesh MDLs, the Rottenstein Law Group eagerly anticipates the start of the MDL case against Bard tnow scheduled to commence on Feb. 15, 2013, as well as the commencement of the vaginal mesh MDL cases that have yet to be assigned start dates. The firm's Vaginal Mesh Lawsuit Information Center, at http://www.vaginalmeshlawsuit.com, describes all of the issues that vaginal mesh victims face and explains their options. It has features that allow for easy sharing, including links for automatic posting on Facebook and Twitter, specifically to enable visitors to spread the word about vaginal mesh implants and the dangers of vaginal mesh products. The Rottenstein Law Group, a personal injury firm, encourages visitors to link to its sites from their own blogs and websites to spread information about defective medical products and dangerous drugs.
About The Rottenstein Law Group
The Rottenstein Law Group is a New York-based law firm that represents clients in mass tort actions. The firm was founded by Rochelle Rottenstein, who has more than two decades of experience as a lawyer, to represent clients hurt by defective medical devices. http://www.rotlaw.com
Contact:
The Rottenstein Law Group, LLP
Rochelle Rottenstein, Esq.
1259 Veeder Drive
Hewlett NY 11557
(212) 933-9500 (office phone)
(212) 933-9980 (facsimile)
rochelle(at)rotlaw(dot)com
http://www.rotlaw.com