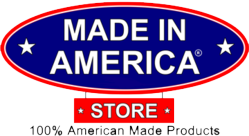 Those Americans who have given their lives in defense of our freedoms we all enjoy today.
Elma, New York (PRWEB) May 05, 2012
The Made In America Store is known for its 100% American made goods, American made promise to their customers and commitment to the US soldier, giving them discounts every day and hosting some events in their honor. Designated by Congress, National Military Appreciation Month gives people the chance to thank all those who have served.
As Americans, we participate and celebrate various national holidays that honor war heroes from the past. However, there is no recognition for the most important presence in the world today. The Armed Forces of the United States of America impacts every American in a significant way, but they don't have a time in the year devoted to them.
National Military Appreciation Month (NMAM) was designated by Congress and provides a month to recognize the history and the services our armed forces contribute. As a nation, we would like to use this time to take an in-depth look at the diversity of its individuals and accomplishments. NMAM allows Americans to take the time to educate each and every generation of the historical impact our armed forces have made. Congress hopes that the National Military Appreciation Month will encourage patriotism and love for America by participating with the community.
"Those Americans who have given their lives in defense of our freedoms we all enjoy today." Says a National Military Appreciation representative.
National Military Appreciation Month includes a list of days all month long, including Military Spouse Appreciation Day (May 11th), Loyalty Day (1st), VE Day (8th), Armed Forces Day (19th), and Memorial Day (28th). The Made In America Store will be having some special deals for its customers on a few of the days listed.
Where would our military's morale be without their loved ones supporting them? This day recognizes the contributions made by military spouses to the spirit and well-being of our military communities.
Armed Forces Day is recognized this year on May 19th. The day was marked to salute all the men and women in every branch of the military, to celebrate the individuals that can be called upon at any moment's notice to perform a dangerous mission for freedom and country.
Memorial Day, which is traditionally the last Monday every year, is dedicated to the service men and women who gave their lives for our freedom and country. People use this time to remember loved ones who have passed away and have been recognized since 1865 and at the end of the Civil War.
National Military Appreciation Month recognizes those on active duty in all branches of the services, including the Reserves, Retirees, Veterans and all of their families. Over 90 million Americans have served in the Unites States Armed Forces over the 290 years it's been in service.
As always, the Made In America Store gives all Veterans and Active Duty a discount, everyday on your entire purchase.
The Made In America Store is located at 900 Maple Road in Elma, New York and is committed to selling 100% American manufactured products. You can visit http://www.MadeInAmericaStore.com for more information or shop our catalog of over 290 vendors that are devoted to producing USA made products. All US military personnel both active duty and retired receive a discount every day. Consumers can also keep up to date news articles, events, photos and contests with Facebook, Twitter, Google+, Pinterest and Tumblr!