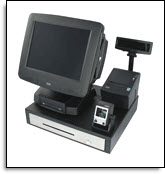 Small and mid-sized businesses now have access to the same profit creating software that their corporate competitors have had.
Sarasota, FL (PRWEB) May 04, 2012
WestShore Processing is announcing a new incentive: POS systems for restaurants for free. The ability for the POS systems to change how restaurants do business is easy. Small business owners can look forward to saving time and money with these systems that have been profit eating in the past.
Providing this profit creating system for free is a unique opportunity that WestShore Processing is excited to offer. This program will open the doors for small and mid-sized businesses that can benefit tremendously from the reports and resources that come standard with the program.
CEO Paul Dion notes, "Big corporations and chains have always had access to this bottom line boosting state of the art software. This program will allow us to offer these amazing POS systems for restaurants for free. In this economy, small businesses can flourish and blossom or they can struggle greatly. We are offering this program because of the great business building features that comes with this advanced system. The amount of time and inventory small restaurants can save by using the reports and tracking have been shocking."
These systems are being offered for free; however, the system features state of art hardware and software that will provide business owners with clear advantages of their competitors. Small business can benefit from this most when they are able to get clear and accurate data about their inventory, turnaround time and employee reports. Employees can be managed through the same, completely touch screen system that they are trained on by 24/7 training and support. This touch screen is wowing the POS market alone due to 35 million touches life span.
The software that comes with the POS system is fully customizable and detailed for precise menu matching. While the software can identically mirror the menu, it is also capable of tracking inventory and scanning bar codes. This is the same unit that has integrated credit and debit card transactions into the hardware. The complete system comes with the program and is being offered for free from WestShore Processing.
More information about this new incentive and program can be found at: http://www.possystemsforrestaurants1.com