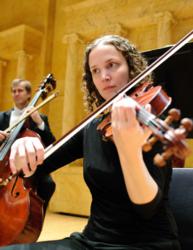 I guess I'm down to fourteen and a half minutes of fame now. -Merwin Siu
Toledo, OH (PRWEB) May 06, 2012
Last summer four musicians from the Toledo Symphony assembled in Cleveland for a gig.
But this was no ordinary gig.
It was, in fact, Joss Whedon's summer blockbuster, The Avengers, now in theatres.
That's right, the gig was a film set, and the musicians were part of the party scene with obligatory super villian party guests.
The fearless foursome were in Cleveland for fifteen hours of filming at a courthouse made over to be a museum for the movie. Merwin Siu (violin), Jennifer Burns (violin), Tim Zeithamel (viola) and Renee Goubeaux (cello), all of Toledo, got to meet Mr. Whedon, look emotive while playing and enjoy craft services.
"I think it's the best string quartet in a art museum scene I've ever witnessed," says Burns who hasn't yet seen the movie, "But we had to run away looking scared when the fight scene broke out, so I'm pretty sure something else happened after that."
Said Siu of his 30 second moment in the spotlight, "I guess now I'm down to 14 and a half minutes of fame."
Goubeaux was unavailable for comment by phone. Via e-mail she responded, "I'll have my people call your people."
All four musicians were new to acting.
Toledoans are urged to check out the film, and support their local orchestral heroes. The film is currently showing at the Rave Cinemas at Franklin Park, Levis Commons and Fallen Timbers.
###