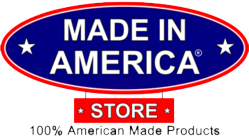 Elma, New York (PRWEB) May 07, 2012
All month long, the nation is going to recognize the men and women who have made the commitment to defend our freedom. May 11th is Military Spouses Appreciation Day and takes part during National Military Appreciation Month. Specifically, the Made In America Store will be offering special deals on their online store (http://www.MadeInAmericaStore.com) through promotional codes all month long.
For Military Spouse Appreciation Month, the Made In America Store will be offering 100% American made United States of America Flags for $20, instead of the usual $30. The 3' x 5' American flag is made of nylon and every star is stitched on from Allied Flags. The embroidered nylon flags have two metal rings to help fasten the flag to any pole.
Consumers can view the 3'x5' Allied American Flags by visiting http://www. MadeInAmericaStore.com
Military Spouses looking to take advantage of the Made In America Store's promotion can use promo code 'SPOUSES' at the end of their purchase to benefit from the flag discount.
The Made In America Store is located at 900 Maple Road in Elma, New York and is committed to selling 100% American manufactured products. You can visit http://www.MadeInAmericaStore.com for more information or shop our catalog of over 290 vendors that are devoted to producing USA made products. All US military personnel both active duty and retired receive a discount every day. Consumers can also keep up to date news articles, events, photos and contests with Facebook, Twitter, Google+, Pinterest and Tumblr!