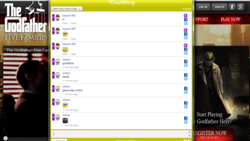 Burlington, VT (PRWEB) May 04, 2012
Browser-based game players are now getting hooked to Godfather: Five Families, a noir game about the legendary Godfather franchise. In this game, players must work round the clock to maintain the efficiency of their family. The popularity of this game has reached an efficient chat box known as Chatwing. The developers have noted that the players are serious in achieving superiority and gaining friends in high places.
Since Godfather: Five Families is a game that highly requires a form of communication between players, the developers of Chatwing decided to branch out to this niche. "This is a great niche to cover. Players really dig the game because it is noir and they get the chance to relive the glory days of Mario Puzo's masterpiece. So, we offer these players a new opportunity to make new friends and additions to their family. Plus, they can also talk about tips and walkthroughs," Says Ivan Diamond, one of Chatwing's developers and a certified fan of the Godfather franchise.
This is another reason why Chatwing's developers need to work round the clock. Since Chatwing's developers are meticulous, they are always tweaking the shout box so that it will run smoothly without connection lags. In the latest version of Chatwing, guests and visitors can also use a Facebook log-in method to expand their social horizons. For Godfather players, this is another way to build their empires.
Some Godfather gamers have even taken their gaming experience to the next level. They have created blogs that offer tips to other players, thus they earn more friends and game contacts. Chatwing has contacted some of these players and they agreed to use the website chat app for their blogs. In just few days, they observed noticeable spikes in their online presence. It is even better compare to other chatrooms because they just need to stay on their blogs and engage the visitors.
Godfather: Five Families gamers who are looking for a simple way to improve their game can visit the Chatwing website and use the widget instantly. This offer is something that Godfather gamers cannot refuse.
About Chatwing.com
Chatwing.com is a free shout box for all web pages or blogs. It also lets anyone create free chatrooms on any website or blog. The Chatwing.com website offers users the ability to signup and create a customizable live chat box instantly with few details. Users have the ability to select the size, dimensions, and colors of the shout box. The ability to live chat with Facebook, Twitter or guest avatars is a unique feature which includes social sharing features in real-time. Chatwing is free chatroom software available to any user.