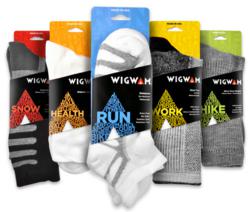 "We want you to feel good about buying the Wigwam brand because we've set a standard of integrity that we strive to live up to every day."
Elma, New York (PRWEB) May 06, 2012
The Made In America Store has partnered up with Wigwam Socks to bring consumers a unique opportunity to get involved and win some 100% American made merchandise. The Wigwam Sock Company has been with the Made In America Store since the beginning in 2010. The monthly promotion gives consumers an opportunity to get involved with each company and have some fun with it too.
May kicks off the "Made In America Mondays" promotion from Wigwam Socks and The Made In America Store. The first Monday of every month, individuals can visit either the Made In America Store's or Wigwam Socks' Facebook or Twitter page to get all the details. Each month will present a question to their customers and they will have to email an answer to a blind address. A handful of correct answers will win monthly and be sent the winning prize socks.
Consumers can visit the Made In America Store's Facebook page at http://www.facebook.com/madeinamericastore and consumers can also visit their Twitter page at https://twitter.com/#!/themiastore .
The promotional event will introduce new Wigwam styles, along with classic and bestselling styles, to consumers interested in a in the promotion.
The sock company known for producing top quality wool socks and its Ultimax feature puts the environment, society and financial implications on the economy before the bottom line. Wigwam Socks helps to lobby in Washington D.C. for programs that limit the quantity of products allowed to be imported while still pursuing fair trade policies with other countries.
"We want you to feel good about buying the Wigwam brand because we've set a standard of integrity that we strive to live up to every day." Says Robert Chesebro, Owner of Wigwam Socks. "Since 1905, my family has been committed to our employees, our community and making fine quality socks just for you."
The Wigwam Sock facility is also progressing to be "green." The state of the art factory has worked with local utility companies to limit their carbon footprint and be more efficient by installing solar panels on top of their facility to heat their water. The water is used to wash the dye from the socks and to heat some of the factory. Motion sensory lights were installed to limit the amount of power wasted and needed inside the facility.
The Made In America Store is located at 900 Maple Road in Elma, New York and is committed to selling 100% American manufactured products. You can visit http://www.MadeInAmericaStore.com for more information or shop our catalog of over 290 vendors that are devoted to producing USA made products. All US military personnel both active duty and retired receive a discount every day. Consumers can also keep up to date news articles, events, photos and contests with Facebook, Twitter, Google+, Pinterest and Tumblr!