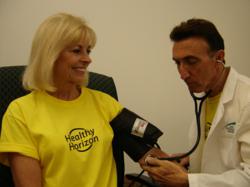 Fort Myers, FL (PRWEB) May 04, 2012
During the monthly meeting of the Horizon Council, executives temporarily turned off their iPads, closed their portfolios, and made a commitment to roll up their sleeves for a series of health assessments and benchmark wellness tests to launch the Healthy Horizon Challenge.
The Healthy Horizon Challenge is a comprehensive, 12-week program, derived from the findings of the inaugural CEO Roundtables, as a strategic initiative for 2012. The program, created by the Horizon Council Healthcare Task Force in partnership with Lee Memorial Health System, is designed to increase awareness among the business community and create a healthier and happier workforce in Lee County.
Horizon Council members serve as challenge champions and ambassadors to their member organizations and companies through active participation beginning with the pre-testing phase of the Horizon Health Challenge. Personalized, confidential assessments and wellness profiles include:

Health Risk Assessment (HRA)
Fitness assessment including biometrics (blood pressure, weight, BMI, body fat percent)
Body Age Assessment
Health History Assessment
Lab Tests Screening
Wellness Consultation
Following the initial phase, the program will officially begin at the general membership meeting of the Horizon Council on May 18 and lasts through August 10, 2012 to effectively reach more than 15,000 people associated with the businesses, individuals, and member organizations represented by the Horizon Council.
"As leaders of our companies and influencers within our community, we must 'walk the walk' for increased wellness among our workforce," said Robbie Roepstorff, Horizon Council Healthcare Task Force chair. "Volumes of research indicate a solid correlation between a healthy workforce and increased productivity and morale as well as decreased absenteeism and overall health care expenses."
"Lifestyle change significantly decreases the incidence of all the major chronic illnesses and even cancers. Healthy nutrition and regular physical activity have been shown to be the foundation for healthy living," said Dr. Sal Lacagnina of Lee Memorial Health System and Healthy Horizon Challenge medical director.
Funding for the program is jointly sponsored by the Horizon Council and Lee Memorial Health System.
"Healthcare is a key pillar in our community and naturally unites business function with quality of life," said Jennifer Berg, marketing and communications director of the Fort Myers Regional Partnership, Lee County's Economic Development Office. "Our partnership with Lee Memorial exemplifies our mission to work together in all facets of business to strengthen our community at its core – our people."
About Lee Memorial Health System
Open since 1916, Lee Memorial Health System is the sixth largest public health system in the United States and the largest community-owned health system in Southwest Florida. With more than 10,000 employees, the system includes four acute care hospitals and two specialty hospitals, as well as outpatient centers, walk-in medical centers and primary care physician offices. An award-winning health care system, it provides regional programs such as the Trauma Center and the Children's Hospital of Southwest Florida, which serve community members from Tampa to Miami. Visit http://www.leememorial.org for more information.
About Fort Myers Regional Partnership
The Fort Myers Regional Partnership works to attract new and diversified businesses resulting in high-wage, high-skilled jobs; retains and encourages the expansion of existing businesses and improves the overall business environment. Lee County is a thriving business community with a highly regarded airport, significant corporate development and ample real estate opportunities. The area is attracting, retaining and growing high-value businesses with a unique blend of an outstanding business climate and superior quality of life. The county is home to five vibrant cities--Fort Myers, Bonita Springs, Cape Coral, Fort Myers Beach, and Sanibel--and is the heart of Southwest Florida.
The Partnership continues to promote and build the region through ongoing efforts from its proactive team of domestic and international recruiters, research staff and community liaisons, as well as through its partnerships with the Horizon Foundation, the Horizon Council and the Lee County Industrial Development Authority.
Since 1996, more than 5,000 new jobs and more than $1 billion in economic impact have been committed to as a direct result of key local incentive programs; Lee County Job Opportunity Program and the First Incentives for Recruiting Strategic Targets as well as State of Florida incentives and the State Closing Fund.
In addition to the website, http://www.FortMyersRegionalPartnership.com, Fort Myers Regional Partnership can also be found social networking sites including Linked-In, Facebook, Twitter and YouTube.
Honoring the Past. Celebrating the Present. Exploring the Future.
Lee County is celebrating its 125th anniversary (Quasquicentennial) on May 13, 2012. In honor of its independence from Monroe County in 1887, Lee County will be offering a variety of special events, programs, and promotions throughout the year. Learn more at http://www.LeeGov.com/125th with a monthly events calendar, photo gallery, and historic events timeline.
# # #
Editor's Notes: Unique story angles, resources and trend data are available in the online Media Center at http://www.FortMyersRegionalPartnership.com/AboutUs/MediaCenter. For executive interviews, success stories, and additional media relations services, please contact Jennifer Berg, Fort Myers Regional Partnership, via phone at 239.338.3161 or email at JBerg(at)leegov(dot)com.