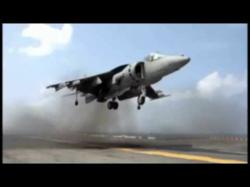 Cincinnati, OH (PRWEB) May 07, 2012
3D Engineering Solutions employed 3D laser scanning, structured light scanning and Geometric Dimensioning and Tolerancing (GD&T) best practices to reverse engineer components for military aircraft, including parts for large helicopters and Harrier jump jets recently sold by Britain to the U.S. Because the CAD models and prints for these parts are not available, 3D Engineering digitized each component, determined the materials, finishes and coatings, and then created new CAD models and prints to be used by government suppliers in recreating each piece. 3D laser scanning was employed to digitize the larger parts while structured light scanning was used to capture the smaller, detailed components.
"The difficulty in these types of projects comes in discerning the original design intent of the component. This is done by studying how the parts interact with the overall system and applying proper dimensioning and geometric dimensioning and tolerancing (GD&T) that is appropriate for the design intent and to reduce the end cost of the components," said 3D Engineering Solutions Vice President of Operations Rob Glassburn, P.E. In all, 3D Engineering created over 200 prints for the helicopter and Harrier projects, comparing the scans they captured with the models they created numerous times.
3D Engineering Solutions is completing the prints of these wear item components at a time when Diminishing Manufacturing Sources and Material Shortages (DMSMS) pertaining to military aircraft is on the rise. "For various reasons, suppliers to our government are no longer able to provide key components to certain systems. Many of these components are wear items that need to be replaced on a frequent basis," said Glassburn. "When the prints for these parts aren't available, that's where we come in."
About 3D Engineering Solutions:
Customers rely on 3D Engineering Solutions to design process tooling and fixtures for the automotive, industrial, green energy, nuclear and aerospace industries, using engineering tools such as Siemens advanced NX7.5 Mach 3 CAD platform. Leading edge point cloud software, InnovMetrics PolyWorks, allows a common software platform for collecting data across all of Faro laser-based data collection platforms. In addition to reverse engineering services, 3D Engineering Solutions is registered with the State of Ohio for Professional Engineering and ISO 17025 Certified for third party inspection. In their seventh year of operation, the company maintains a state-of-the-art, climate controlled metrology lab, servicing the Midwest OEM needs for 3D laser scanning, data collection, 3D CAD modeling, FAI / PPAP inspection, and reverse engineering services. 3D Engineering Solutions brings more than 100 years of collective experience to every engineering project. For more information about structured light scanning or 3D scanning service or general information about 3D Engineering Solutions, call 513-771-7710 or visit the company's website: http://www.3D-engineering.net.