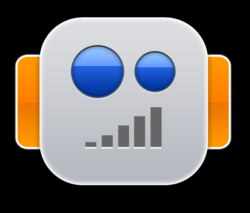 Philadelphia, PA (PRWEB) May 06, 2012
appsbar.com has recognized "Virtues" as the appsbar App of the Day because Digi is all about the Benjamin's.
Benjamin Franklin's that is. Apparently Ben "Go Fly a Kite" Franklin did more than invent stoves to get his picture on U.S. money. He also was one of the first self help gurus. The appsbar app builder told Digi that this app "will help you manage your daily self improvement through a simple system created by Benjamin Franklin, which helped him achieve success through self improvement daily accounting of his virtues."
Turns out Ben Franklin kept a checklist in a notebook to measure each day how he lived up to his virtues trying to reach "moral perfection." Digi tried that once, but robots find a lot of gray areas when it comes to morality.
Where the app can be downloaded for free:
Google Play
Why Digi likes it:
Ben Franklin went for moral perfection. This app nears mobile perfection. Made with appsbar, this app was free to make using appsbar's iPhone app builder, Windows app builder or Android app builder, and even better, it's free to download.
How anyone can make an app:
Simply join the community with an email address and get started on an app. Digi, our loveable robot app coach, is there to help at each step.
About appsbar:
http://www.appsbar.com was launched in 2011 to fill the gap between over-simplified apps and costly, professionally-produced apps. appsbar.com apps each average 500 to 1,000 downloads within the first day of being published. In 2012, appsbar became the leading developer of Android apps with more than 11,000 published. appsbar was developed by Appsbar Inc., a company founded by Scott Hirsch. appsbar has grown to a community of everyday app developers and opened the way for businesses and people to engage with friends and brands online through the development of customizable digital tools. For company contact information and partnership opportunities, visit http://www.appsbar.com
For More information:
Joe McGurk
PR(at)appsbar(dot)com