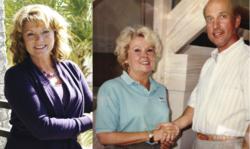 Gulf Shores, AL (PRWEB) May 04, 2012
Since 1980, Kaiser Realty, Inc. has been fulfilling the dreams of their employees with empowering careers along the beautiful Alabama Gulf Coast. This month, they are honored to acknowledge the hard work and dedication of Connie Carlisle, Director of Reservations and Janet Taranto, Real Estate Sales Agent, for their past twenty years of service. Carlisle and Taranto are viewed as pillars of leadership within the company and continue to embody the mission statement and spirit of Kaiser Realty, Inc. every day.
Beginning her career at the Summer House on Romar Beach offices in Orange Beach, Carlisle knew that her strength was leading others and helping them manage their own time, tasks and talents. Exemplifying a strong understanding on how to manage a robust and energetic team, she continually strives to find new ways to create an enjoyable and fulfilling work environment for all those in her department. "I can't begin to imagine how different my life would have been without my Kaiser Realty family," stated Carlisle. "The names and faces may have changed over the years, but the values and commitment to excellence that Kaiser Realty stands for have not."
Taranto started showcasing her talents in Real Estate Sales the second she began working with Kaiser Realty, Inc. Quickly earning the award for "Top Sales Agent" only months into her career, Taranto continues today to exemplify how to be successful in the real estate business, and helps make the dream of home ownership a reality for new families, first time home buyers and investors alike. "Janet Taranto not only has vast experience, but has translated that into true expertise and superb customer service," according to Lee Kramer, a recent client of Taranto's. "Our entire home buying experience was smooth and painless thanks to the time and care she put into our house hunting."
The traits that both Carlisle and Taranto exude help to personify Kaiser Realty, Inc.'s mission statement of "delivering exceptional, professional service with integrity and a genuine caring attitude;" this has made their continued dedication all the more powerful. Not only acting as leaders, managers and employees within the walls of the Gulf Shores based real estate business, Carlisle and Taranto have become role models and mentors for those new to their field.
###
Contact:
(251) 968-6868
Follow Up Questions: Emily E. Gonzalez, Marketing/Public Relations Director EmilyG(at)KaiserRealty(dot)com
Written and Distributed By: Adam Pfaff, Public Relations Coordinator AdamP(at)KaiserRealty(dot)com
http://www.KaiserRealty.com
About Kaiser Realty, Inc.: Since 1980, Kaiser Realty, Inc. has been renting, selling and managing the finest vacation homes and condominiums available in Gulf Shores and Orange Beach. With the blue green waters and sugar white sand beaches of the Gulf Coast, it is hard to find a more beautiful location for your next home or home-away-from-home. Offering Gulf front condominiums ranging from 1 to 6 bedrooms and vacation homes sleeping up to 30 people, Kaiser Realty will help you create the perfect vacation, retreat, wedding or work function. Visit us at http://www.KaiserRealty.com or call (800) 225-4853 to speak with one of our Reservation Professionals, Sales Representatives or Rental Managers today!
Corporate Mission: "Kaiser Realty, Inc. has a tradition of fulfilling dreams for our customers, our employees and in our community. Our philosophy is to deliver exceptional, professional service with integrity, enthusiasm and a genuine caring attitude. Whether it's for a vacation or a lifetime, our family is committed to yours."