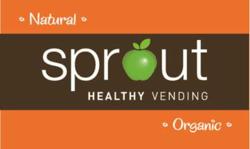 Irvine, CA (PRWEB) May 06, 2012
Sprout Healthy Vending, a national leader in taking the vending industry in a healthy direction at work, school and in the community, will now be available to the people of San Ramon, California thanks to newest operators Arun Kalasapudi and his wife Sandhya.
Born and raised in India, Kalasapudi moved to the U.S. to earn his master's degree with a specific goal in mind: to become an entrepreneur and create a business of his own.
"Sprout is my first step in the right direction of becoming self-employed and giving back to the community where I reside. The idea of getting involved in healthy vending occurred to me when I noticed that the vending machines at my work place contained only soda and other typical vending products that have large amounts of sugar and fat." Kalasapudi explains.
Kalasapudi continues, "I also have a seven year old son and he has had his share of dental problems with his first set of teeth already, probably a result of munching on candies, chips, etc. – but if there had been these healthier options readily available he may not have the same dental issues today. I then decided to look for options that would not only help address the concerns with my personal, family snack options but also help my goals of giving back to the community by way of my own business."
Co-Founder Chris Wyland states, "This is a great business opportunity for anyone that is looking to be self-employed and for someone wanting to feel good about what they are doing. The Kalasapudi's investment in the health and well-being of their children as well as their community makes them the perfect fit into the Sprout Healthy Vending family."
In addition to the importance of being involved in the healthy vending business Kalasapudi said, for him, it was just as imperative to be a part of a business that he would be particularly proud to own and promote.
"I had initially seen the Sprout Healthy Vending machine on their website and loved the color scheme and the fact that it takes multiple forms of payment," Kalasapudi says. "Furthermore, the machine's technological capabilities are remarkable. There is a convenient remote monitoring system so you are able to check your machine's inventory and track your sales no matter where you are at."
"I believe the market accepts this concept because I am, in large part, targeting a highly sought after residential neighborhood in the bay area with lots of schools and kids in the community. I strongly believe it will be a welcomed business as it promotes healthy eating habits and an overall healthy lifestyle," Kalasapudi states.
Knowing that the market is so accepting of this idea, Kalasapudi and his wife try to spread the Sprout word as often as possible. "When my wife and I describe Sprout Healthy Vending to others we always say it is a unique concept and initiative to drive healthy eating habits within all age groups. It provides a healthy alternative to the every day snacking needs of kids and grown ups. There is no reason why everyone shouldn't be involved," Kalasapudi reveals.
When describing his major target market, Kalasapudi sounds like he might be referring to someone very similar to himself. "My target audience will be someone who is watchful of their personal and family eating habits, someone that wants to bring quality/healthy food to their work place, home, gym, school, etc., and someone that encourages others to eat healthy," says Kalasapudi.
About Sprout Healthy Vending
Sprout Healthy Vending provides state-of-the-art vending technology, thousands of healthy and organic products and turnkey customer solutions for regional operators. Currently, Sprout Healthy Vending has over 70 operators in 40 markets in the U.S. with 1,000 individual locations projected by the end of 2012. To learn more about the company, locations and products please visit http://www.sprouthealthyvending.com or call (800) 450-7648.