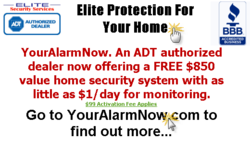 No More False Alarms Now! Elite Security Services Introduces Home Security Systems With Advanced Motion Detector
(PRWEB) May 04, 2012
Elite Security Services has just come up with an excellent motion detection system that can take care of false alarms, one of the most common problems with conventional home security systems. Elite Security Services is one of the youngest of all security companies in the United States. However, within no time, the company has become a force to reckon with, in the industry. After experiencing good market response in America, they are now serving the Canadian industry with similar results. The inclusion of this advanced motion detection device is expected to evoke great response amongst the customers of the company.
False alarms in home security systems are caused mainly by the pets present in a house. The conventional devices are not smart enough to differentiate the movement of the pets from that of human beings. As a result, it keeps sending alarms every time the pets move around the sensor. This can be extremely irritating for homeowners and put a serious question mark about the reliability of such systems. The device introduced by Elite Security Services completely eliminates this problem by identifying the movement of pets up to a weight of 80 ponds.
During the lunch of the new device, Elite Security Services' owner Mr. Paul Shakuri invited the home owners to enjoy the benefits of this device. He said," This amazing device is available with all our security plans. This device will be particularly helpful for families that have pets". He also revealed that more new devices are soon to be introduced to the home security systems from the company. The company presently has three excellent service plans, all equipped with the latest protection devices and features available in the industry.
About the Company: Elite Security Services is a rapidly growing company in the home security industry. They offer highly efficient and economical home security solutions in America and Canada.
Contact
Paul Shakuri
Phone: 800-880-9569.
Website: http://www.YourAlarmNow.com