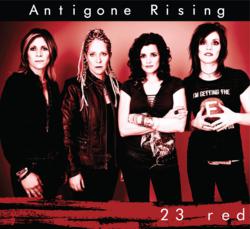 The Women's three-part harmonies shimmered above their alternately rocking and soulful instrumental playing
New York, NY (PRWEB) May 07, 2012
Antigone Rising, the all female country/rock band, returns to The Stone Pony in Asbury Park on Friday, May 11. The are excited to announce the additon of Lori McKenna to the bill. Singer/Sonwriter Lori McKenna is a staple of the Boston folk music scene. In 2005 her music was brought to the attention of Faith Hill, who fell hard for Lori's songs. Hill recorded three of them for her album Fireflies. Lori's way of articulating the love, pain and pathos of domestic life had a huge impact on Hill, and Hill's very public championing of Lori's music led other artists to Lori's songs. Tim McGraw, Carrie Underwood, Alison Krauss, Keith Urban and LeAnn Rimes are among the many that have recorded her songs in recent years. Also performing on the bill is Lisa Bianco and The Fury and Aster Phoenyx
Antigone Rising most recently traveled to Israel and The West Bank as Arts Envoys, a cultural initiative sponsored by the U.S. Department of State. During the trip, Antigone Rising performed in Jerusalem, Tel Aviv, Ramallah and other regional cities, leading community outreach workshops and making music with Israeli and Palestinian musicians. Antigone Rising exploded into the spotlight in 2005 becoming the first band on Starbuck's Hear Music (Lava Records) with their best selling debut LP. A lineup change brought Nini Camps to the band, whose voice blends perfectly with the signature style soaring three part harmonies of founding sisters Kristen Henderson (bass /vocals), Cathy Henderson (lead guitar /vocals) and Dena Tauriello (drums), that Antigone Rising has become known and loved for. While the notions of luck, fate, chance and destiny are not new in popular music, their themes abound in the latest Antigone Rising CD, "23 Red". The band has opened for such acts as The Rolling Stones, Aerosmith, Joan Jett and The Blackhearts, Rob Thomas and The Bangles, and are favorites in festivals around the USA..
UPCOMING ANTIGONE RISING SHOWS:
May 19- NY Liberty- Prudential Center- immediately following 4 pm game- post game show for season ticket holders
Antigone Rising will perform at a private post-game concert at The Prudential Center in Newark, after the Liberty's season opening game versus The Connecticut Sun on May 19, 2012. This exclusive Private Concert Series, hosted by The Liberty, is a new and special way for the team to thank their valued fans. Antigone Rising is excited to be a part of this competitive opening day matchup and to kick off this exciting team venture. Game time is 4 pm.