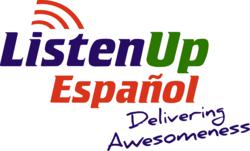 This is an exciting opportunity to have been ranked twice, back to back, by TMC as a top 20 International Teleservice Agency
Portland, ME (PRWEB) May 07, 2012
Listen Up Español is now among the top 20 on teleservices agencies an international basis as ranked by TMC, a global, integrated media company, in their 27th annual publication, Customer Interaction Solutions Magazine.
In 2011, this Spanish language call center was ranked as a top teleservices agency and has risen to top 20 in under a year. This 19th ranking among international teleservices agencies adds to Listen Up Español's already established accolades, which includes being listed on Inc. Magazine's 500/5000 list for America's fasted growing private companies. In addition to these rankings, Listen Up Español was honored by the State of Maine Governor's Office as a Maine business that has defied economic trends.
"This is an exciting opportunity to have been ranked twice, back to back, by TMC as a top 20 International Teleservice Agency," said Craig Handley, Founder and CEO of Listen Up Español. "We've jumped from top 50 to top 20 and we hope to make top 10 next year. This recognition helps drive us to live by our code of awesomeness even more and drives us and our employees even more to do what they do best—efficiently work a call center."
Listen Up Español's code of awesomeness helped build their organization and core values that have become the backbone to the service Listen Up Español employees strive to deliver every day. They have met the strict criteria set by the editors of Customer Interaction Solutions to make the Top 50 Telesales Company ranking. Listen Up Español's billable minutes were verified by the editors for accuracy and reliability and submitted a letter of verification from its telephone service providers certifying the number of minutes billed during the 12 month period from November 1, 2010 to October 31, 2011.
The Top 50 Outbound Teleservices Agencies rankings are published in the March 2011 issue of Customer Interaction Solutions Magazine. The inbound ranking, together with the interactive inbound and the global aggregate ranking, was published in the April 2011 issue. Customer Interaction Solutions has been the leading publication in CRM, call centers and teleservices since 1982™.
About Customer Interaction Solutions
Since 1982, Customer Interaction Solutions (CIS) magazine has been the voice of the call/contact center, CRM and teleservices industries. CIS magazine has helped the industry germinate, grow, mature and prosper. CIS has served as the leading publication in helping the industries that have had such a positive impact on the world economy to continue to thrive. Through a combination of outstanding and cutting-edge original editorial, industry voices, in-depth lab reviews and the recognition of the innovative leaders in management and technology through our highly valued awards, Customer Interaction Solutions strives to continue to be the publication that holds the quality bar high for the industry. CIS reaches 250,000 readers every month.
About Listen Up Español
Listen Up Español is the leading Spanish language call center for the U.S. Hispanic market. Operating in Portland, ME and Hermosillo, Mexico, the company employs over 800 native Spanish-speaking agents and provides companies with teleservices to reach the U.S. Hispanic market with optimum results.
Listen Up Español offers direct response, non-profit and corporate clients a broad range of call center services from inbound and outbound sales, customer service, and lead generation to Spanish campaign planning, scripting and advertising production services. With a focus on measurement, training and a sales psychology, Listen Up Español has the experience to turn customer interaction into revenue.
# # #