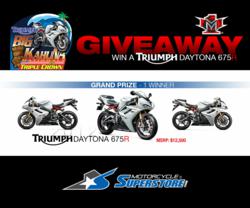 "By giving away this incredible bike to help promote the Big Kahuna Nationals, we hope to get even more people involved, and ultimately bring back the glory days of American road racing." -Cameron Gray
Medford, OR (PRWEB) May 05, 2012
Motorcycle-Superstore.com, in conjunction with M1 Powersports and the Big Kahuna Triple Crown Nationals, are giving away a brand-new 2012 Triumph Daytona 675R supersport motorcycle, valued at $12,500, to one lucky winner. Second prize in this sweepstakes is a new Arai Corsair V motorcycle helmet, valued at $789.95 - $799.95, and third prize is $500 towards a LeoVince motorcycle exhaust system.
These amazing prizes that any motorcycle enthusiast would covet are all being provided by M1 Powersports as part of their effort to revitalize the sport of motorcycle road racing in America. M1 Powersports has rekindled the Big Kahuna Triple Crown Nationals as part the AMA Pro Road Racing Series to help get fans to the track to participate in the resurgence of these breathtaking sports. This sweepstakes is being promoted by Motorcycle-Superstore.com, who supports the grass-roots level of these sports and the future stars of American road racing by being title sponsor of the AMA Pro Motorcycle-Superstore.com SuperSport road racing series.
"We're doing everything we can to get people back to the track to enjoy the thrills of AMA Pro Road Racing," says Cameron Gray, CEO of M1 Powersports. "It's been great partnering with the team of fellow racing enthusiasts over at Motorcycle-Superstore.com, and by giving away this incredible bike to help promote the Big Kahuna Nationals, we hope to get even more people involved, and ultimately bring back the glory days of American road racing."
The Big Kahuna Triple Crown round one at Road Atlanta was a roaring success and there are still two events yet to come. Round two takes place on September 21st-23rd at the Homestead Miami Speedway. Round Three takes place at NOLA Motorsports Park in New Orleans, LA and will close the AMA Pro Road Racing 2012 season on the weekend of October 5th-7th. For more information on the Big Kahuna Nationals and to get tickets, visit http://www.m1powersports.com. In order to enter the Triumph Daytona 675R sweepstakes, interested individuals can be entered automatically with any purchase from Motorcycle-Superstore.com before June 25th, 2012, or can enter manually through the sweepstakes information page.
About Motorcycle-Superstore.com:
Motorcycle-Superstore.com is the leading online retailer in the motorcycle and powersports industry. Serving motorcycle riders for over 12 years, Motorcycle-Superstore.com specializes in selling motorcycle and powersports helmets, riding apparel, accessories and parts at the lowest prices possible. Internet Retailer magazine has ranked Motorcycle Superstore in the top 10 of all sporting goods sites and in the top 200 of all e-commerce sites. Powered by a dedicated staff of motorcycle enthusiasts, Motorcycle-Superstore.com continues to impress customers by constantly raising its online shopping standards. Visit http://www.motorcycle-superstore.com.
About M1 PowerSports, formerly M1 Entertainment:
A Denver-based company, M1 PowerSports has been working in motorsports for over 16 years. Originally spawned from Daniels Corporation under the name FAST, the fledgling company was heavily involved in television production for car and motorcycle racing. With the birth of Speedvision, FAST morphed into Race Promotion Management (RPM) and is now operating as M1 PowerSports with many of the same staff still in place. We still sell advertising for Speed, sell merchandise under the brand Moto 1 and promote our own events, keeping us busy year-round! For more information, please call 303-377-3278 or email info(at)m1powersports(dot)com.