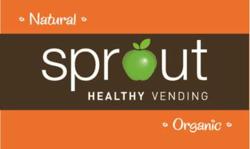 Irvine, CA (PRWEB) May 07, 2012
Sprout Healthy Vending, a national leader in taking the vending industry in a healthy direction at work, school and in the community, will now be available to the people of Chino Hills, California thanks to newest operators Jennifer, Jane, and Kyle Yu.
Keeping it in the family, the Yu's are no strangers to running a business together. "My sister, Jennifer, my brother, Kyle and myself were born in Korea but we came to America early on and were raised right here in southern California. Currently, we own a family restaurant but we were looking for another business venture and through Jennifer's friend we were introduced to Sprout Healthy Vending," Jane shares.
Jane continues, "We were motivated to become Sprout Healthy Vending operators because we wanted to be able to offer healthy and organic snacks and drinks to our community. What better way to give back?"
"We couldn't be more thrilled to offer healthy products to Chino Hills and everyone here has been very accepting so far of the Sprout program. They are extremely excited about the new organic and all natural products. Being the only ones in the area providing these types of snacks we know that it will be a huge success. Not many people can say they offer such nutritious products in their vending machines. We are hoping to change that and inspire people to join in on the healthy revolution," Jane says.
Just like their family-filled community, the Yu's understand the importance of keeping their own families healthy and preservative-free, "We, as parents, are always looking to offer healthier snacks to our children and to our community and Sprout Healthy Vending helps us to do that," Jane explains. "We're very excited to be Sprout operators and we're looking forward to expanding even further in the southern California area."
Co-Founder Chris Wyland said, "Our operators always come on board with great tenacity and drive just as the Yu family has. With the Yu family, I believe the force driving is family. The Yu's have their families' health to think about and they translate that energy into inspiring others to jump on the healthy bandwagon ultimately making better choices about their eating habits. I look forward to seeing their surefire success continue in the Chino Hills area."
With obesity being such a prevalent problem in the world today, more people are decidedly making healthier choices for themselves, which is what the Yu's attribute to their early success. "We believe the market has been so accepting because nowadays people are more conscious of what they are putting in their bodies. More and more people are beginning to do this and sticking to a healthier lifestyle. Now is definitely the time for all natural and organic vending," Jane states.
"We like to describe Sprout as a motivational tool to eat better. Who wouldn't want to eat these yummy healthy snacks if they are available? And that is why me and my family are eager and proud to make this program available to as many people as possible."
About Sprout Healthy Vending
Sprout Healthy Vending provides state-of-the-art vending technology, thousands of healthy and organic products and turnkey customer solutions for regional operators. Currently, Sprout Healthy Vending has over 70 operators in 40 markets in the U.S. with 1,000 individual locations projected by the end of 2012. To learn more about the company, locations and products please visit http://www.sprouthealthyvending.com or call (800) 450-7648.