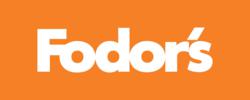 "We are thrilled to be offering our new free Fodor's City Guide apps, providing travelers with instantaneous access to our expert recommendations, making booking a fantastic hotel, memorable restaurant, or hit show simple and easy."
New York, NY (PRWEB) May 07, 2012
The experts at Fodor's Travel today announced the re-launch of their City Guide apps for iPhone® and iPad®, integrated with new partners and functionality and available free-of-charge for the first time. The six popular city guide apps, available for New York City, Paris, London, Rome, Barcelona and San Francisco, and featuring interactive offline maps, are powered by developer Red Foundry's new Fusion platform, the world's first network that unites app developers and publishers with feature and service providers.
The updated apps allow travelers to book hotels through the Expedia Affiliate Network, a private label division of Expedia Inc.®, the world's leading online travel agency, make dinner plans with OpenTable®, a leading provider of free, real-time online restaurant reservations, and show and concert tickets through TicketsNow™, Ticketmaster®'s resale marketplace. The introduction of these new partners makes it possible for users to go seamlessly from researching and browsing Fodor's expert City Guide recommendations to booking reservations and purchasing tickets without leaving the app.
"Fodor's understands its travelers are on the go and need curated, trusted information, whether they're in the planning stages or during their travels," says Amanda D'Acierno, Vice President and Publisher of Fodor's. "We are thrilled to be offering our new free Fodor's City Guide apps, providing travelers with instantaneous access to our expert recommendations, making booking a fantastic hotel, memorable restaurant, or hit show simple and easy."
"As one of the pioneering mobile app publishers to make use of Red Foundry's Fusion platform for development, Fodor's has created a best-in-class travel app," says Jim Heising, Product Manager and Co-Founder of Red Foundry. "The app's integration with service providers such as Expedia.com makes an excellent model for how apps can use the power of Fusion to enhance the experience for users."
With geolocation service built in, travelers can search to see what is nearby or can browse the City Guide by interest, including what to see, what to eat, shops, nightlife/arts, where to stay and more, both online and offline. Featuring the same great content as Fodor's guidebooks and website, the apps include the most reliable, up-to-date, travel intelligence available:

Quickly find expert reviews of restaurants, shops, sights, and hotels, thanks to our multiple sort and search options
Explore by neighborhood or find what's nearby with detailed interactive maps
Jump to the best of the best with our exclusive Fodor's Choice picks
Navigate with ease wherever you are with bonus offline maps, saving on data-roaming charges
Keep track of all your favorites with handy bookmarking and field-note tools
Whether you are overcome with a craving for Indian food while touring London or the lights on Broadway inspire a search for last minute tickets to a show in New York – the latest versions of Fodor's City Guide apps make spontaneous trip planning even easier.
Nook® and Android editions of the apps will be available in the coming months.
About Fodor's Travel
Fodor's Travel, a division of Random House, Inc., is one of the world's leading providers of travel information. Covering over 7,500 worldwide destinations, Fodor's guidebooks and website, Fodors.com, have provided the most up-to-date, accurate information for travelers since 1936. Written by a vast team of global correspondents, Fodor's provides travelers with engagingly written, locally reported, and absolutely indispensable travel guidance. Visit http://www.Fodors.com.
About Red Foundry
Red Foundry connects mobile developers who want more capabilities for their apps to the feature and service providers who have them. With premium services and features ready to plug and play into native apps, Red Foundry Fusion enhances mobile apps of every kind. Red Foundry was founded in 2009 by a team of technology veterans who have built successful start-ups for over a decade. For additional information about Red Foundry and the Fusion network, visit http://www.RedFoundry.com.