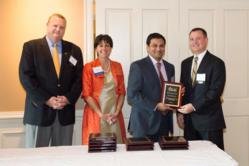 I'm very appreciative of everyone's afforts that have enabled this award
McLean, VA (PRWEB) May 05, 2012
On May 3rd, 2012, Octo Consulting Group was announced the winner of the Government Contractor of the year Award (revenue $12 to $25 million), at the Fourth Annual SECAF Awards Gala in Tysons, VA.
The finalists in the $12 - 25 Million category for Government Contractor of the Year are: DRT Strategies, Inc.; eGlobal Tech; Information Systems Worldwide; LongView International Technology Solutions, Inc.; and Octo Consulting Group, Inc..
Octo Consulting is very proud and pleased to be the winner of this prestigous award and to have competed amongst so many small & emerging government contracting companies. "I'm very appreciative of everyone's afforts that have enabled this award" said Mehul Sanghani, President and CEO of Octo Consulting.
Follow Octo Consulting news by visiting our Twitter account and Facebook page.