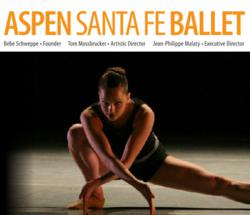 Santa Fe, New Mexico (PRWEB) May 04, 2012
The School of Aspen Santa Fe Ballet, a Hutton Broadcasting radio stations featured business, and Aspen Santa Fe Ballet Folklórico, presents its annual recital on Saturday, May 26, at 2 pm and 7 pm at The Lensic, Santa Fe's performing arts center. More than 150 dance students, ages 3-18, will participate in this year's program. From ballet to jazz, tap and traditional Mexican folkloric dance, this year's recital will showcase the boundless talents of the school's many students. Tickets are $25 in the orchestra and mezzanine and $20 in the balcony and can be purchased at The Lensic, 988-1234 or online: http://www.ticketssantafe.org.
THE SCHOOL OF ASPEN SANTA FE BALLET
Under the direction of Gisela Genschow, The School of Aspen Santa Fe Ballet is committed to providing the finest classical ballet training to the children and young adults of Santa Fe. As the official school of Aspen Santa Fe Ballet, a non-profit cultural organization, we are proud to be affiliated with a nationally recognized and critically acclaimed professional dance company. Students are taught in a supportive environment that fosters confidence and individual accomplishment, as well as technique and artistry. Students and alumni have trained and danced with New York City Ballet, American Ballet Theatre, Boston Ballet, Washington Ballet, Pittsburgh Ballet Theater, The Julliard School, San Francisco Ballet, Pacific Northwest Ballet, North Carolina School of the Arts, and Aspen Santa Fe Ballet.
ASPEN SANTA FE BALLET FOLKLÓRICO
From early in its beginnings, Aspen Santa Fe Ballet has been committed to facilitating educational programs that enrich the lives of children and inspire a new generation of creative thinkers and artists. Healthy, safe, and free after-school programs offer educational opportunities for children of all ages, many of whom may not otherwise have a chance to experience movement education and dance performance.
Operating throughout the school year, Aspen Santa Fe Ballet Folklórico's free after-school program is available to children at Ramirez Thomas Elementary, Cesar Chavez Elementary, Piñon Elementary, Ortiz Middle School and Sweeney Elementary School.
The program offers inspiration, education, and recreation. The classes target children from grades K-12, and teach the culture, arts and crafts, and music of Mexico, along with its traditional dances. Classes are taught in both English and Spanish.
Program director Francisco Nevarez sees the award-winning activity as a lifeline to a generation of children. Aspen Santa Fe Ballet Folklórico exposes youngsters to the richness of Mexican heritage and culture, presenting a balance of instruction and fun. The youth engage in performance opportunities in both communities as well as other cities in the Southwest, including Denver, Las Vegas, Albuquerque and Grand Junction.
Aspen Santa Fe Ballet Folklórico provides dynamic experiences for children, the effects reaching outside the walls of the classroom as they go out into their communities and beyond to share their confidence and skills, teamwork and leadership.
For further information or to request photographs or schedule interviews, please contact: Jennica Deely, Aspen Santa Fe Ballet, 505.983.5591 ext. 101
Jennica L. Deely
Director of Marketing
Aspen Santa Fe Ballet
0245 Sage Way
Aspen, CO 81611
970-925-7175; 970-925-1127 fax
jennica(at)aspensantafeballet(dot)com
http://www.aspensantafeballet.com
About SantaFe.com
SantaFe.com provides locals and visitors to Santa Fe alike the most current interactive platform for events, music, arts, business, dining and lifestyle. SantaFe.com is a division of Hutton Broadcasting, located at 2502 C. Camino Entrada, Santa Fe, NM 87507
Contact Information:
Scott Hutton
SantaFe.com / Hutton Broadcasting
http://www.santafe.com
(505) 471-1067 (Media inquiries only, please)