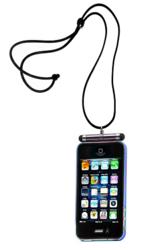 iHangy by Ontrion let you wears your iPhone as a fashion accessory in the same way the rapper wears his infamous clock
Dallas, TX (PRWEB) May 08, 2012
When Flava Flav recently appeared at the grand opening of his new restaurant, Flavor Flav's House of Flavor, he was photographed wearing his trademark clock necklace. Thanks to the recently unveiled iHangy from mobile phone battery and accessory manufacturer OnTrion, the rapper isn't the only one who can take an everyday item that bears special meaning and wear it as a personal-statement-making fashion accessory. Now one's can't-live-without iPhone or iPad can be flaunted the same way as Flava Flav's timepiece is.
Rapper Flava Flav is notorious for being spotted in the limelight with a giant clock hanging round his neck. When asked by "Stealth Magazine" why he continued to wear the timepiece as a necklace, he insisted, "At first it was a gimmick but then it really started meaning something to me." That 'something' turns out to be rather profound for this Public Enemy hype man who is best known for yelling out "Yeah boy."
"The reason I wear this clock is because time is the most important element we have in our life," he explained. "We can't afford to waste it. Each minute that we live we gotta use each second to our best value. Time waits for no value. Time brought us in and time is gonna takes us out." Clearly, what started as a fashion statement has come to bear personal and significant implication for Flava Flav.
Tech-loving young people who are seeking to emulate the rapper's unique style while making a personality statement of their own can get the same look and feel with the new iHangy. Available as a necklace, a keychain and a music necklace, the iHangy allows individuals to wear their favorite Apple device as a fashion accessory, either around their neck or clipped to their belt loop/bag strap.
Designed to secure an expensive iPhone or iPod so that it doesn't get lost or misplaced, the iHangy is not only practical; it also adds youthful style in a range of fashion colors. The iHangy Necklace and iHangy Keychain come with a touchpen while the iHangy Music Necklace™ includes a color-coordinated set of earbuds.
For more information on how to inject some Flava Flav character and charisma into everyday life, visit http://www.ihangy.com for product information. The iHangy is available for purchase worldwide online at http://www.ihangy.com.
Visit us at CTIA Booth #1224
Follow us on Twitter: http://www.twitter.com/ihangy
Like us on Facebook: http://www.facebook.com/ihangy
###
CONTACT INFORMATION:
Palki Kochar
13650, TI Blvd., Suite #309
Dallas, TX 75243
(877)676-0877
http://www.ihangy.com.