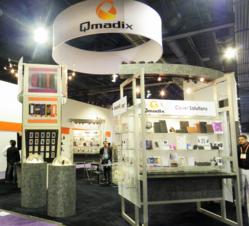 Team Qmadix is ready to demonstrate our commitment in providing the finest mobile solutions.
Panorama City, CA (PRWEB) May 07, 2012
Mobile solutions visionary, Qmadix is set to announce the launch of several new additions to their product portfolio at CTIA. Focusing on style, fashion trends, and enhancing the user experience. Qmadix is dedicated to deliver forward thinking solutions for all tech enthusiasts, business travelers, and families alike. The innovative product road map is geared to equally benefit Apple, Android, and Smartphone consumers.
"Team Qmadix is ready to demonstrate our commitment in providing the finest mobile solutions. Personally, I am excited to see our retail partners, as well as, the debut of our newest product additions." – David Khalepari, CEO, Qmadix.
When asked about what new innovative products will be debuting, he said "It's confidential until Tuesday" when the show floor opens at CTIA. However, he welcomes everyone in the wireless community to visit the Qmadix booth #2933.
Qmadix left the tech world eager after a sneak preview of its revolutionary Q-i-sound in Las Vegas last January at CES 2012. Its long awaited release is finally here, along with the anticipation of their product giveaway.
"Qmadix (booth #2933) will be giving away a free Smudge-Free Device Cleaning Kit on Tuesday and Wednesday to the first 500 visitors" – Khalepari.
For more information on Qmadix, visit the website
or contact Brandon Lippincott at Brandon.lippincott(at)qmadix(dot)com
About Qmadix
Qmadix has a proven track record in developing and implementing effective accessory programs across all major channels, including Mobile Network Operators, Dealer Agents, Distributors and National Retailers. Our focus is to help our partners become more profitable by providing innovative products and backing them with value-added programs such as education, training, vendor managed inventory (VMI), private label branding and fulfillment services to enhance the support to our customers. We have built our business from the ground up and have continued to grow and evolve in the accessory industry.
Qmadix's team is dedicated leaders with over 20 years of success in the accessory industry. Their long-standing commitment to providing quality products and innovative solutions has always been the cornerstone of the Qmadix philosophy.
For more information about Qmadix's Tempered Tech Armor sound or any mobile accessories, please visit Qmadix.com
Contact Us:
Qmadix
14350 Arminta Street
Panorama City, CA 91402
Phone: 818-988-4300
General: info(at)qmadix(dot)com
Media: media(at)qmadix(dot)com
Website: Qmadix.com
Copyright © 2012 Qmadix, Inc. All rights reserved. Qmadix ® is a registered trademark of Qmadix, Inc. and all other Qmadix product and service names and slogans are trademarks or registered trademarks of Qmadix, Inc. Other product and company names mentioned herein may be trademarks and/or registered trademarks of their respective owners.