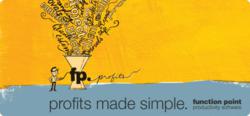 The survey allows us to compare ourselves to firms of similar size and focus, whether it's balance sheet health or simply net profit
Vancouver, B.C. (PRWEB) May 04, 2012
The Association of Professional Design Firms (APDF) has launched its 2012 Financial Performance Survey.
APDF's Financial Performance Survey provides specific benchmarks and goal setting parameters for design firm management not found in any other industry-related survey, including: pricing ratios, salary comparisons, balance sheet, and profit and loss statements; each a valuable benchmark to gauge business performance against the industry.
Originally launched in 1998, with an online version launch in 2002 and updated in 2011 in partnership with Function Point, the APDF Financial Performance Survey represents a substantial base of historical data focused on using industry performance benchmarks to help monitor, analyze and optimize design firm profitability.
"We use APDF's financial performance data to not only give us a sense of position relative to our peers, but more importantly, it provides an insight into the causal relationships between our people, place, processes and potentially new ways to understand the effects of our actions," said Randy Rossi, president of APDF member firm Bally Design.
More than 50 design firms of varying size and discipline contribute to the survey annually, making the APDF Financial Performance Survey one of the most powerful comparison tools available. "The survey allows us to compare ourselves to firms of similar size and focus, whether it's balance sheet health or simply net profit," said Ronna Chisholm of Vancouver B.C.-based APDF member firm Dossier Creative. It's an invaluable tool."
APDF's Financial Performance Survey is now available to both member and non-member firms. The organization will host a free webinar Wednesday, February 2, 11 a.m. CST to teach current and interested users how to leverage the survey as an effective business tool to develop more comprehensive financial plans that result in a higher degree of efficiency and improved profitability.
About the APDF
Founded in 1985, the Association of Professional Design Firms (APDF) is made up of leading firms that consult in the use of design to help drive innovation and strategic business success. Member firms represent a diverse collection of design skill sets including identity, experience, environment, brand, packaging, interactive, interaction, product, engineering and industrial design. APDF serves its member firms by emphasizing design as a business and providing a forum for industry leaders to grow their business skills and their businesses through education, interaction and collaboration. More information can be found online at apdf.org.
About Function Point:
Function Point Productivity Software Inc. (functionpoint.com) is a web-based software as a service (SaaS) company, and is located in Vancouver B.C. The company was founded in 1997 and is a leader in workflow management software for advertising agencies, design firms and web development companies. The software includes modules for customer relationship management (CRM), timesheet and job tracking, project management, purchase orders (PO's), basic insertion orders, expense tracking and invoicing, as well as optional components for client collaboration, online design proofing and an integration to popular accounting packages such as QuickBooks and Simply Accounting. There are currently over 3500 active clients using the system as their primary agency project management tool.
For more information and/or to access the APDF Financial Performance.
Survey contact:
Cathy Brownlee, cbrownlee(at)apdf(dot)org, 773-643-7052