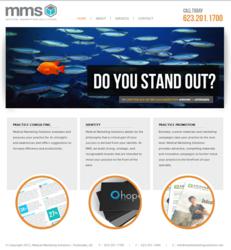 Phoenix, AZ (PRWEB) May 09, 2012
Medical Marketing Solutions is proud to announce the re-launch of their website and highlight the services offered to medical professionals across the country.
Medical Marketing Solutions (MMS) provides comprehensive, turn-key marketing solutions exclusively to medical practices. As a group that understands the unique challenge of marketing to both referring physician offices and the patient community, MMS offers an array of services to best capitalize on the most advantageous market opportunities. Medical Marketing Solutions excels in creating relevancy for medical practices amongst a crowded, noisy marketplace. With lower insurance reimbursements and changes in healthcare, now is the time to gain an advantage over the competition.
Medical Marketing Solutions provides everything a medical practice needs to rise to the top of their specialty, including in-depth practice analysis, brand creation or redesign, campaign management, patient retention programs, referral marketer training, and custom printed material packages including patient education pieces and custom practice magazines. MMS can provide access to outdoor advertising, radio campaigns, television commercial campaigns, and representation at local and national events, effectively making a medical practice a recognizable name in the community and beyond.
In the online realm, MMS offers website redesign, SEO campaign creation and management, social media management, press release creation and distribution, and online videos, including custom video channel sites. The purchase of any package will aid in SEO and make a medical practice a known online entity.
Medical Marketing Solutions is comprised of individuals who have been trained in the unique challenges of working in and marketing a medical practice. MMS utilizes proven methods to bring any practice to their full potential in creating an indelible presence in their specialty.
Medical Marketing Solutions works exclusively with medical practices in any specialty to create relevancy in a flooded medical marketplace. Offering customized packages for any practice or specialty, MMS can take a medical practice from unknown to unmissable.