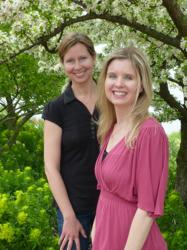 Deerfield, IL (PRWEB) May 07, 2012
Two local Deerfield, Illinois moms, Marianna Kurzydlo and Jennifer Templeton, are excited to launch their new business, Errand Mamas. Errand Mamas is a North Shore errand running service that helps people free up their valuable time so they can do the things they love. Errand Mamas serves the North Shore, primarily in particular the Deerfield and Highland Park communities. Errand Mamas can shop for groceries or gifts, wait in your home for service calls, take care of your pets (dog walking, vet or grooming appointments), pick up or drop off items, or while you are out of town water plants or feed pets. The various errand possibilities are endless.
The two business partners, with three kids each, met when their oldest children started preschool together. After being at home with their own children they know first hand how hard it is to get back into the job market. While they were out walking for exercise one day, the idea for Errand Mamas sprang to life as the two noticed more moms going back to work and families struggling to get everyday errands done. They understood the challenges and wanted to help. The idea grew to provide this Highland Park and Deerfield errand service not only to busy working families, but also to families with young children, new moms, those recuperating, senior citizens, and businesses as well. The entrepreneurs see Errand Mamas as a way to balance work and family.
While maybe you haven't heard of this service before it is really a simple concept. First, you have an errand in mind that you would like help with or you might get an idea of how Errand Mamas could help you by viewing their website at http://www.errandmamas.com. Then, you can contact Errand Mamas either by phone or by filling out a form on the website. A simple hourly rate is charged for all services with no long-term commitment. A convenient time will be quickly scheduled for the errand to be efficiently completed by a trustworthy mom. So, now you can check that errand off your list! Your time is valuable and now you have more of it to do the things you love when you use an errand running service in Highland Park and Deerfield like Errand Mamas.
Finally, in celebration of their grand opening, Errand Mamas is offering a grand opening special. New customers receive $10 off their first hour of service.
About Errand Mamas
Errand Mamas is an errand running service owned and operated by two Deerfield, Illinois moms serving customers in Deerfield, Highland Park and the North Shore. Errand services include personal shopping, grocery shopping, pet services, out-of-town services, waiting for service calls, small business services, and more. To learn more about the Errand Mamas team visit Errand Mamas at http://www.errandmamas.com or call them at (847) 282-0199.