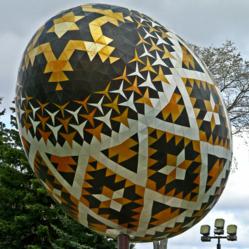 Our Heritage Our Music
Kelowna, B.C. (PRWEB) May 19, 2012
Tune in now for toe-tapping, lively, Ukrainian heritage and cultural music with live streaming and broadcast from Pysanka Music Hour. Pysanka Music Hour is produced and hosted by Eli Tatarin, out of Kelowna, British Columbia, Canada. Pysanka Music Hour is a 2 hour Ukrainian Music program airing every Sunday, from 6 to 8 pm PDT. The program started to broadcast live on the internet Dec. 07/2010.
The Ukrainian music that is aired is from Ukrainian Canadian Bands, varying from the past to the present. The music is from Ukrainian Bands that are on vinyl LP's and cassettes, as well as CDs. The music is toe-tapping fun for all age groups of people with an appreciation for Ukrainian Heritage. Different bands are featured once a month. Each music program has a complete play list of music selections, which can be printed off so that listeners can follow along with the program. Ukrainian music classics from bands include: instrumentals, folk music, Ukrainian roots music, Ukrainian heritage music, Ukrainian culture in music, Ukrainian dance music, and Ukrainian holiday music. The mix includes everything from polkas, waltzes, and fox trots, plus other dance music that is played by Ukrainian Canadian Bands.
There are many great Ukrainian bands. Here are some that are played on the Pysanka Ukrainian Music Program: Mickey and Bunny, D Drifters Five, Ron Lakusta and the Diamonds Band, Northern Troubadours, Royal Lites, Interlake Polka Kings, Albert and Albert Billy, Joe Hrycuyk and the Starlites, Johnny Bilyk and the Serenaders, Jimmy Watsko and the Lumber Jacks, Millenia, Ukrainian Connection Band, Female Beat, Molodtsi, Canadian Rhythm Masters, and Prairie Crocus.
The list goes on and on, but one of the greatest artists in the Ukrainian community was Metro Radomsky and his Orchestra. An article about this great man was done in the Edmonton Journal in the early 90s which states:
"He [Metro] was called the Guy Lombardo of Ukrainian weddings by Equinox magazine. His band was in great demand from the 1930s to the 1990s. During the bands existence, from 1928 to 1989, Metro was booked almost solidly, with over 5,000 functions in his 60 years. He also introduced North American hit-parade and dance-band music into traditional Ukrainian music culture in Alberta, Canada."
The full article is on the Pysanka Music Hour website.
Eli Tatarin believes that this type of music programming is necessary to help keep the Ukrainian heritage and culture alive. It is through this media that Ukrainians can receive info on new music from today's bands. The program promotes special events happening locally and provincially. The program is in both English and Ukrainian.
One listener wrote a letter in to Tatarin, stating:
"As we reflect on 2011 we are very grateful to have made your acquaintance and to have found a venue for our 'dear precious Ukrainian Music.' You must be told that you are doing a wonderful thing in bringing happy memories to many folks with the music program you provide. We must uphold our wonderful Ukrainian Culture! We are proud to be Ukrainian and admire our Ukrainian pioneers, (Babas and Gidos) that worked so hard when they first arrived in Canada. They did not get the luxuries that immigrants get today. Therefore, we try to give back to our Ukrainian Community – by sharing our music and instilling our culture on our children and grandchildren. We challenge other Ukrainian couples to do the same – otherwise our beautiful culture will die. Thank you for all you do and we wish you the very best in 2012."
Pysanka Music Hour is aired every Sunday for two hours on internet radio, through BlogTalk Radio, and live streaming. Listeners will find program archives for the last six months. The web site is http://www.etsbest.com/Pysanka_Music_Hour.html or http://qr.gl/m/eli. On the website, there are direct links to the current Pysanka Ukrainian Music program, archived programs, Google map, YouTube videos of Ukrainian events, Twitter, direct email to the program, Android applications, plus a Direct Link to the website. This program is available to any radio station wishing to carry it on their network.
Our Ukrainian Heritage - Our Ukrainian Music.
Contact:
Eli Tatarin
Etsbest(at)gmail(dot)com
1-250-763-6722