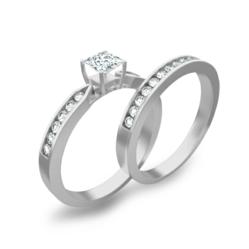 Aquamarine rings have always been popular with women, many of them use it as their engagement rings
Cockeysville, MD (PRWEB) May 05, 2012
Aquamarine rings have been worn by men and women for over 2000 years. The beautiful light blue color of the Aquamarine gemstone has inspired countless jewelry trends over the centuries. Romans and Greeks were not alone in their love of Aquamarine rings. Women have always loved the gemstone which comes in two major colors, either as light blue or sky blue color, or as white color. JewelOcean.com has now introduced a complete collection of Aquamarine rings which are made in gold and silver, and are set with diamonds. The gemstone rings collection comes on sale from May 8th onward, and is available on sale for limited time.
Over the last 2000 years, Aquamarine has been attributed with numerous myths and legends. Aquamarine, which is the birthstone for the month of January, is believed to bring a long and loving marriage. Due to this belief, Aquamarine engagement rings are very popular. The new JewelOcean.com collection continues this trend, and the collection features many Aquamarine engagement rings which are made exclusively with Aquamarine, diamonds and are set on gold. The collection also features Aquamarine wedding sets, which features matching collection of Aquamarine engagement rings and Aquamarine wedding bands. For customers looking for something more toned down, the collection also features Aquamarine promise rings, which are mostly set on silver. The Aquamarine promise rings are designed by keeping the young couples in mind, who do not want to splurge a large amount of money on their rings. As such these promise rings on jewelocean.com start from only $79 onward.
Aquamarine is one of more affordable gemstone, and as such Aquamarine rings are inexpensive when compared to other gemstone rings such as Ruby or Sapphire. While Aquamarine rings are inexpensive, however they add glamour and style to any occasion, and therefore Aquamarine rings make for beautiful cocktail rings also. Women are not alone in their love for Aquamarine, men's Aquamarine rings are very popular also. This is another reason the JewelOcean.com collection features many beautiful designs of Aquamarine rings for men.
JewelOcean is a leading diamond rings manufacturer and retailer. The company focuses on selling its diamond rings and wedding rings at inexpensive prices. Thousands of couples have purchased wedding ring sets on JewelOcean. Now the wedding ring sets can also be customized with Aquamarine gemstone. For a complete view of the new gemstone collection, please visit the company website.