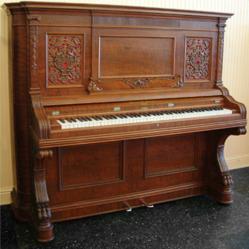 From about 1880 to 1930, when piano manufacturing was one of the nation's most important industries, pianos were produced in a staggering array of cabinet styles, many of them highly intricate, embellished, and decorated.
Jamaica Plain, MA (PRWEB) May 08, 2012
Brookside Press announces the publication of the Spring 2012 Acoustic & Digital Piano Buyer. This issue features an article by piano-restoration specialist Martha Taylor, of Portland, Oregon, who describes in words and photos the history and beautiful cabinet styles of American upright pianos from about 1880 to 1930, a period during which piano manufacturing was one of the nation's most important industries. Ms. Taylor explains how the evolution of piano cabinet styles was linked to economic conditions, such as recessions, and to changing social values, such as those related to the roles of women in society.
Twenty-five years ago, Taylor, proprietor of The Immortal Piano Company, came across an abandoned warehouse of 500 pianos; she has been very busy ever since. The Piano Buyer article is accompanied by 19 photos of instruments from Taylor's Portland shop, which specializes in the restoration and sale of pianos from the heyday of American piano manufacturing.
Other feature articles in the Spring issue include "Moving the Family Piano," by Russ Vitt, owner of Modern Piano Moving, who offers tips on how to avoid unpleasant surprises and unprofessional service when moving a piano, whether locally or across the country; and a review by Dr. Owen Lovell of a new line of pianos made in China for the German piano maker Feurich—an example of the global manufacturing relationships that are increasingly penetrating the piano industry.
Also on the PianoBuyer.com website are two searchable online databases: The Acoustic Piano Model & Price database of 3,000 models will help consumers quickly home in on instruments that match their requirements for size, furniture style, and budget. The Digital Piano Price & Features database can be searched on price and 11 different digital-piano features and specifications. Added to the website this spring is Piano Buyer Classifieds, with listings and photos for thousands of used pianos.
Acoustic & Digital Piano Buyer is a hybrid book/magazine devoted to the purchase of new, used, and restored pianos and digital pianos. The publication offers a collection of how-to articles on the many aspects of buying a piano, such as: "Acoustic or Digital: What's Best for Me?," "Piano Buying Basics," "The New-Piano Market Today," "Buying a Used or Restored Piano," "Buying a High-End Piano," "Buying Pianos for an Institution," "Buying a Digital Piano," and "Buying an Electronic Player-Piano System." Feature articles change with each issue to cover areas of special interest; and the brand profiles and price information, updated for each semiannual issue, cover virtually every brand and model of acoustic and digital piano sold in North America.
Piano Buyer is successor to the well-known reference The Piano Book, which, since 1987, has been the principal consumer guide to buying a piano in the U.S. and Canada. Available free online at http://www.PianoBuyer.com, Piano Buyer can also be purchased in print from the website and in bookstores.