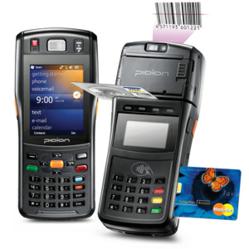 The BIP-1500 gives mobility resellers access a whole new and rapidly growing market. No matter which verticals a reseller focuses on, this device will open new opportunities for them.
Ellington, CT (PRWEB) May 17, 2012
Yellowfin Distribution today announced the availability of the Pidion BIP-1500 mobile POS device that allows for secure transactions anywhere - indoors, outdoors, and even in the air.
The Pidion BIP-1500 has an innovative two-sided design. One side provides a traditional mobile computer with 3.5" VGA touchscreen, a 42-key QWERTY or 25-key numeric keypad and a 1D/2D imager scanner. The other side provides everything needed for mobile POS transactions including an MSR, PIN pad, IC and RF card readers, and an integrated thermal printer. The BIP-1500 also includes WAN, WIFI, Bluetooth, and GPS radios for constant connectivity and a powerful 806 MHz processor that runs on Windows Mobile 6.5. This mobile POS device has been certified as meeting PCI PTS 3.0 and EMV Levels 1 and 2 and has a 5' drop spec and an IP54 rating.
"I don't think there is anything else like this in the market" said John Gibson, VP and GM of Yellowfin Distribution. "It allows retailers to complete highly secure transactions anywhere but the possibilities go far beyond retail. Many airlines use Pidion devices for in-flight sales and with the integrated printer, the 1500 is ideal for event and railway ticketing, hospitality, and even DSD" he said.
Frank Borghese, VP of Sales at Yellowfin, said mobile POS is gaining a lot of momentum in retail, hospitality, and other service industries. "A recent survey found that two-thirds of retailers are very interested in mobile POS and more than 40% plan to start trials in the next few years" he said. "This is a ground-floor opportunity for resellers since very few retailers have deployed the technology, but those who have are seeing amazing growth in revenue and customer satisfaction."
About Yellowfin
Yellowfin is a new company with its headquarters in Ellington, CT. Founded by mobility experts, each with more than 25 years of industry experience; Yellowfin wants to help mobility resellers enjoy higher product margins while providing them with the rugged, high performance, and innovative solutions their customers demand. With an augment and complement service strategy, Yellowfin can also help resellers fill out their own service and solutions portfolios making them more competitive in the market and more valuable to their customer.
For more information on the BIP-1500, please call John Gibson at 866-341-0979.