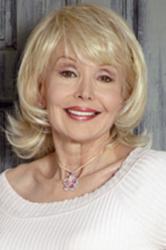 Francine's exotic belly dance for George Peppard in Canon for Cordoba put many young men through puberty!
Los Angeles, CA (PRWEB) May 10, 2012
Actress and long-time sex symbol Francine York reveals experiences working with Elvis Presley (Tickle Me), Nicholas Cage (Family Man), Marlon Brando and David Niven (Bedtime Story), six movies with Jerry Lewis, TV with Robert Conrad and many more.
Exclusive Interview for Actors Reporter hosted by producer and veteran actor Joe Sabatino.
With over 120 movie and TV credits to her name, Francine York continues her active career, including a guest star role on "Hot In Cleveland," airing May 30th. In Hot in Cleveland, Francine is Lady Natalie, A British Soap Opera star!
Some of Francine York's sexiest iconic roles include Niolani in Lost in Space, Lydia Limpet in Batman, Sabrina Kincaid in The Doll Squad, Queen Medusa in Jason of Star Command, Venus in Bewitched, and the famous stagecoach scene as Marie Du Bois in Cracking Up with Jerry Lewis.
According to Francine, her exotic belly dance for George Peppard in Canon for Cordoba put many young men through puberty!
"Francine's portrayal of Marilyn Monroe in Marilyn Alive and Behind Bars was probably the most realistic Marilyn ever, albeit in a bomb of a movie!" Pepper Jay / Pepper Jay Productions
Recently, Francine appeared as Evelyn in The King of Queens with Jerry Stiller, in Las Vegas with Josh Duhamel, as Mrs. Stanley in Miracle at Sage Creek with David Carradine, and as Aunt Bitsy in Bucket and Skinner's Epic Adventures with Glenn McCuen.
"Francine York carved out a nice career for herself in cult movies, feature films, and television sitcoms in the 60's and 70's and her career shows no signs of slowing down!" John Michael Ferrari / Actors Reporter
Thank you Francine York for taking the time out of your busy schedule for this exclusive interview of your life. We look forward for more to come!
Interviews is a show on Actors Reporter, a channel on the Actors Podcast Network, a Pepper Jay Production.