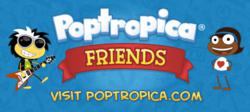 BOSTON, Mass. (PRWEB) May 05, 2012
Poptropica is temporarily disabling certain features of its new "Friends" community and social offering until capacity can be increased.
"We were delighted that kids added 500,000 friends in the first 12 hours the Friends offering was available. And two million in the first 48 hours. Kids have been making friends on Poptropica at the rate of more than six per second since its launch on Tuesday. But once the school week was over and we hit the weekend, that delight turned, honestly, to serious concern about what our servers could handle," said Jess M. Brallier, publisher of Poptropica. "We are doing everything we can at this moment to correct the situation. We appreciate the patience of our users as they so overwhelmingly welcomed this newest Feature."
Certain features of Friends will become available as capacity is increased. Updates will be issued as available. All of the site's 26 Islands are still available for kids to play and explore.
Named as one of TIME magazine's Top 50 websites of 2011, the Poptropica Islands have been visited by more than 225 million kids worldwide since its launch in 2007. Players come from more than 130 different countries and have their web browsers set to more than 100 different languages, ranging from Spanish and Sanskrit to Vietnamese and Croatian. All Poptropica Islands are free to play, and each represents a unique theme and challenge.
About Poptropica (http://www.poptropica.com)
Poptropica is a virtual world in which kids explore and play in complete safety. Every month, millions of kids from around the world are entertained and informed by Poptropica's engaging quests, stories and games.
Kids create a "Poptropican" character to travel the many Islands of Poptropica and use gaming literacy to enjoy a narrative that is often rooted in factual history. Problem-solving skills are honed as kids discover and solve mysteries unique to each Island.
There are always new areas to explore in this ever-expanding world where kids can collect objects, read digital books and comics, watch movies, and compete in head-to-head competition. Parents can always trust that their children are playing – and learning – in a safe online environment.
Poptropica is published by Family Education Network, a part of Pearson, the education, services and technology company. Pearson's other primary operations include the Financial Times Group and the Penguin Group.