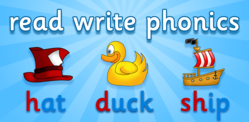 Read Write Phonics is a big step forward in primary phonics teaching, traditional learning aids cannot get close to this type of multi-sensory phonics resource
St Albans, UK (PRWEB UK) 16 May 2012
Developed by parents who were frustrated at the lack of an accessible source of the correct sounds, Read Write Phonics gives other parents the confidence they are teaching the proper pure sounds, for example "mmm" not "em" and "fff" not "fuh"', all 44 phonemes of the English language are included.
Designed with young children in mind, the App is simple to use and focused on learning the correct sounds and the letters and letter combinations that represent them. There are no distracting animations or music, the use of images is very sparing, with a single clear image only shown while learning the sounds within the Read Section.
The App makes full use of touch screen devices in an innovative Phonics section, where children can listen to example words in full, tap the letters and letter combinations in the word to hear the individual sounds, and swipe through the word to hear those sounds blend together. This type of innovation results in a very effective teaching tool, children physically swipe through the word and hear its constituent sounds, this is true "learning by doing", something not possible with traditional learning aids.
The Write section of the App uses an animated pencil to trace a dotted letter form, this then fades away to allow the child to try tracing the dotted letter with their finger, once they have finished they are awarded up to three stars, depending on the smoothness of their line and the proximity to the dots. Positive verbal encouragement is always given. "Well done, nearly three stars"
To ensure Read Write Phonics meets the correct educational standards, the creators have completed a self assessment against the Department for Education's core criteria of a Phonics resource and asked the DfE for an independent evaluation of that assessment. The results are expected around Mid June.
The team at Read Write Phonics feel their App meets one of the core criteria better than anything else available today: "Uses a multi-sensory approach so that children learn variously from simultaneous visual, auditory and kinaesthetic activities" "Our App is the embodiment of this criteria, traditional learning aids cannot get close to this type of multi-sensory resource", state Simon and Seema Carter, the creators of Read Write Phonics.
To ensure that children and parents are happy with Read Write Phonics, the creators have enlisted the help of around 60 mummy bloggers, they have all been given the App, are currently using it and will be writing independent reviews of their experiences over the next two weeks. Find the reviews and keep up to date by following on twitter @readwritephonic.
Find Read Write Phonics on the Google Play store for £1.49
More information can be found on the Read Write Phonics website.